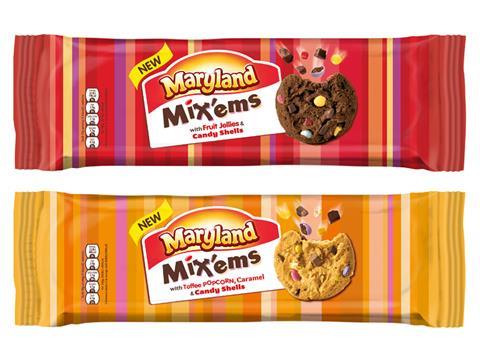 Burton's Biscuit Co is rolling out Marvellous Creations-style biscuit NPD across the trade from this month.

Burton's Maryland Mix'ems sub-range comprises two variants - Toffee Popcorn, Caramel & Candy Shells, and Fruit Jellies & Candy Shells - sold in 144g packs of nine cookies (rsp: £1.59). They recently soft-launched in the Co-op and are now rolling out across the major supermarkets.

The launch follows a raft of NPD across the grocery trade in recent years that combines ingredients, flavours and textures. This has included the £50m Cadbury Marvellous Creations chocolate, Lays Milk Chocolate Wavy crisps in the US, and the Chips Ahoy! cookies brought to the UK by Mondelez last year.

Burton's (which makes lines under licence from Mondelez but does not make Chips Ahoy! cookies) said it had "taken up the baton" to bring excitement to biscuits.

"A combination of sweet and savoury, as well as colourful ingredients with vastly different textures and flavours is being delivered across confectionery, crisps and snacks, and now biscuits," said Burton's customer category management head David Costello. "Our research shows a consumer appetite for this type of product, and Maryland is best positioned to offer it."

Maryland Mix'ems were targeted at families with teens, said Burton's, which is supporting the launch with in-store sampling and point-of-sale material.

Citing Nielsen data to 8 November 2014, Burton's said Maryland sales had grown 7.4% in the past two years to £47m, and had household penetration of 29%.