Greasy kebabs, fried 'chicken' and decadent doughnuts: the new wave of vegan food is as far away from virtuous as you can get
Think of veganism and a big juicy burger piled high with ketchup, cheese and onion rings probably isn't what comes to mind. After all, this is the lifestyle embraced by many a celeb for health reasons. Yet in new wave eateries such as Biff's Jack Shack, whose 'big flavour' burger is pictured above, vegan is getting dirty.

From crispy fried 'chicken' to fresh doughnuts, these products are about as far away from clean eating as you can get. The ethos is clear: just because consumers are increasingly concerned about welfare and sustainability doesn't mean they want to spend the rest of their lives chomping on carrot sticks.
So food trucks, restaurants and pop-up eateries are pushing boundaries with delicacies that would make even a dedicated meat-eater drool. It may be niche and largely London-based for now, but it isn't likely to stay that way for long. In the world of vegan, out-of-home has proved a strong influence on what's being sold in the supermarkets. So how are the latest innovations shaping what we see on the shelves?

Classic British dishes are at the forefront of much of this new-wave vegan cuisine. Take London-based pie shop Young Vegans, for example. "We specialise in British comfort food with a vegan twist," explains founder Marco Casadei. "The whole point is showing vegan food can be as tasty as traditional meat-based dishes and I think we are proving this with every pie sold."
"The point is showing vegan food can be as tasty as traditional meat-based dishes"
The proof does appear to be in the pie. Amid growing demand, Young Vegans is looking to expand "to several new sites in London and major cities in the UK". Casadei also intends to develop its online shop selling frozen pies.

Mimicking classic flavours such as steak & ale and chicken parmigiana, the pies mainly use "mock meat" seitan as a base, made from wheat gluten by the shop itself. Although the ingredient remains largely absent from mainstream supermarket aisles, it is hot property in the out-of-home arena. "Seitan is a massive favourite for mock meats," says Casadei. "Most restaurants in London use it."

Fish and chips is another classic dish getting the plant-based treatment. Vegan fast food chain By Chloe used tofu to create its own version of the dish when arriving in the UK earlier this year. London-based Sutton & Sons used banana blossom and samphire to create its version, fried in crispy batter. After trialling a variety of options for Veganuary, it went on to open the capital's first vegan fish & chip shop in Hackney.
Hitting the mainstream
These are admittedly niche businesses, but vegan seafood is starting to hit the mainstream. For proof, look no further than Greene King, which has over 2,900 pubs, restaurants and hotels to its name. In June, it introduced a variety of vegan options including fish & chips, tuna pâté and smoked salmon. Greene King says the range from vegan supplier VBites, produced from a mixture of plant-based ingredients including konjac flour, "offers truly revolutionary alternatives to real fish that look and taste the same".

Considering VBites already has listings in Ocado, it's easy to see how these dishes could translate to the supermarket aisles. In fact, Quorn is already busy preparing a vegan fish product. And a tuna substitute is among the many innovative new products lined up for next year.
Other propositions, however, seem very much rooted in out-of-home culture. Take plant-based kebab shop What the Pitta, which is putting a vegan twist on post-pub grub. Its meat-free doner kebabs with spiced soya pieces have gained such a loyal following in London that it's now looking to expand beyond the capital, with a fourth site set to open in Brighton by the end of the year.

"Demand for grab-and-go food is booming but it's no longer enough just to be fast," says co-founder Cem Yildiz. "It's got to taste amazing too. Any business can add a vegan item to their menu, but veganism is at our core."

This business is clearly aimed at late-night revellers, but even this trend has potential in the supermarkets. Waitrose, for example, is already selling the Vivera Veggie Shawarma Kebab, made from rehydrated soy protein.

The retailer is also ahead of the game with another piece of NPD: a vegan jackfruit taco, set to arrive in stores in time for Christmas. For it's not all about indulgent British items - world food is another emerging area for vegan cuisine. At the forefront of the movement is Club Mexicana, which serves its own vegan twist on Mexican dishes, from deep fried avocados to baja 'tofish' (tofu fish) tacos. "I set up Club Mexicana to show people that being vegan doesn't have to be boring or mean foregoing fantastic food," says founder Meriel Armitage.
"Veganism is growing in popularity but vegans can struggle to find decadent sweet treats"
Then there are vegan desserts. Byron Burger has started to sell its own vegan brownie freakshake. The Canvas Café in London has become renowned for its vegan freakshakes using alternative milks such as soy and oat, with flavours ranging from Oreo to peanut butter. "Veganism is growing in popularity, but vegans can struggle to find decadent sweet treats," says owner Ruth Rogers. That is already changing with developments such as the expansion of Tesco's Wicked Kitchen range to include sweet treats such as a pineapple dream cake and red velvet brownie.

The demand is certainly there, if Crosstown Doughnuts is anything to go by. "We started serving vegan doughnuts last May, initially with just a couple of flavours on select days," says co-founder JP Then. "They were such a success we had to work into our processes how we could hand-make them every day."

Crosstown has since opened a vegan store in Marylebone where customers can choose from nine mouthwatering flavours such as Rum & Pineapple or Chocolate Truffle, which use "a combination of coconut butter and chia seeds alongside premium plant-based milks" at no extra cost to standard doughnuts.
Christa Bloom, founder of Biff's Jack Shack, says selling vegan options at a "similar price point" to their meaty counterparts is important. "On every level except from the product not being made from meat, we want to be equal to meat. That means we need to give the same speed of service, the same dining experience and the same pricing."

The message is clear: just because you're vegan, it doesn't mean you have to miss out. Founder of the newly opened Plant-based Supermarket in east London, Harry El Araby, believes this wider approach to veganism - with just as much option to be healthy as well as unhealthy - will start translating to the major mults. There "will be a shift in the big supermarkets to supply mock meats and various other highly processed products" he says.

So the plant-based movement may be about to get a lot less virtuous and a lot more experimental. Bring on the dirty vegan.
Four vegan eateries making waves in plant-based
Stem & Glory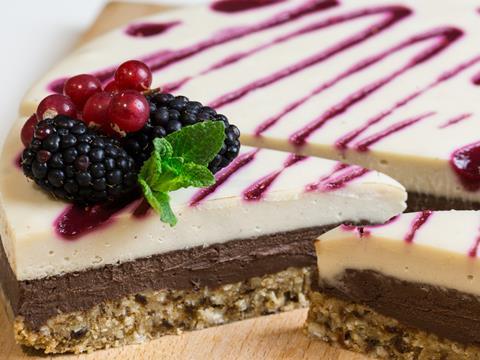 Opened: October 2016 
Location: Cambridge
Vegan restaurant Stem & Glory will be opening its third location in January 2019 after smashing its crowdfunding target earlier in the year. With £600k in the bank, founder Louise Palmer-Masterton is bringing the Cambridge-based concept to the capital for the first time. Dishes include luxury gluten-free lasagne for the adults, and coconut and cauliflower curry for the kids (a far cry from the usual chicken nuggets and chips). A new menu will be created for Londoners to enjoy next year.
The Spotless Leopard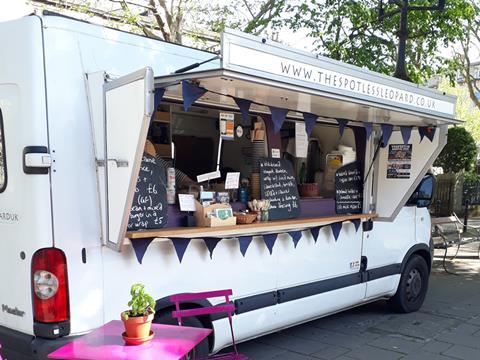 Opened: 2012
Location: Bristol
If its barbecue pulled jackfruit wrap or shepherd's pie with Marmite gravy aren't tempting enough, The Spotless Leopard has plenty of sweet options on show. Sticky toffee cake and cinnamon rolls adorn the menu of the truck, which has been roaming Bristol since 2012, becoming "the first full vegan place" in the city, says founder Louise Abel.
By Chloe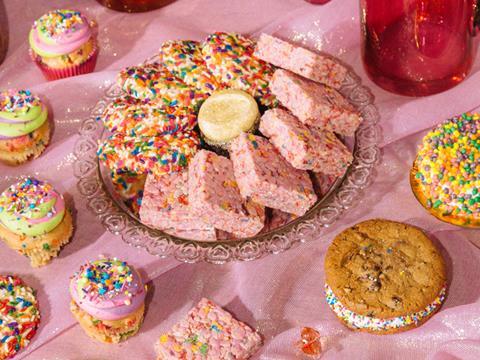 Opened: February 2018
Location: London
By Chloe seems keen to make an impact since coming to the UK this year. Just last month, the vegan fast food chain launched its range of cannabis-infused desserts in London, including a 'Chocolatey Leafy Browney', with a decorative fondant marijuana-shaped leaf. Even dogs can enjoy a CBD-infused peanut butter bone.
Biff's Jack Shack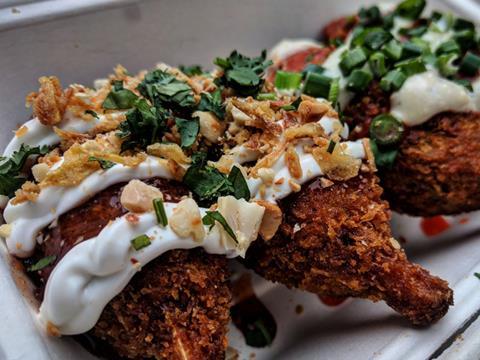 Opened: May 2017
Location: London
The Samuel Hell Jackson and Dirtbag Melt might sound like band names, but these are two of the meals on offer at edgy vegan fast food joint Biff's Jack Shack. Abolishing any notion that a vegan diet has to be 'clean', co-founder Christa Bloom says it hosted "the UK's first vegan wing eating competition" with its "jackfruit wingz".