Four forces will shape the global staples industry: big data, AI, voice search and blockchain are all disruptive in their own right, but together form a massive hurdle for market leaders.

Staples companies are grappling with a bewildering increase in complexity as hyper-connected consumers operate and spend in new and growing channels, particularly e-commerce. China leads the way and perhaps is a mirror of how e-commerce might evolve in developed markets, with this disruptive change now becoming visible in the US.

The big paradigm shift is from mass marketing to mass customisation, and big data promises to allow genuine two-way communication with customers. Alexander Nix, CEO of big data group Cambridge Analytica, said last year: "Today in the US we have something close to 4,000-5,000 data points on every individual." Our digital footprint will only increase further as the internet of things takes off.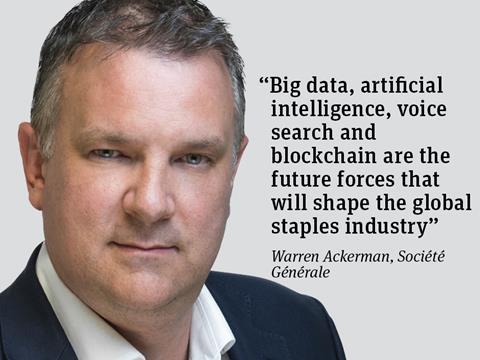 However getting behind the big data early is the challenge. The world's two biggest advertisers, P&G and Unilever, have said they need to get over the 'walled gardens' of Facebook and Google to better understand the returns on their digital ad spend (a quarter of fmcg ad budgets) and get independent cross-platform measurements. AI could be an enabler - L'Oréal launched a 'connected brush' using algorithms to score the quality of the user's hair and give recommendations. For food companies the 'thinking fridge' is not far away.

Unilever claims voice (product) search could be 50% of all search by 2020 and all the FAANGs (Facebook, Amazon, Apple, Netflix and Google) have their own offer. Amazon's Alexa is a risk as it may subtly push consumers to Amazon's favoured products. Staples companies need to get in on the ground floor now on voice search to understand the disintermediation risks of computers, not humans, making buying decisions.

Elsewhere blockchain has the potential to reduce costs and significantly improve traceability and food safety, but at the same time be very disruptive for supply chains. Industry change is about to move to warp speed and only the most agile will thrive.

Warren Ackerman is head, global staples research, at Société Générale