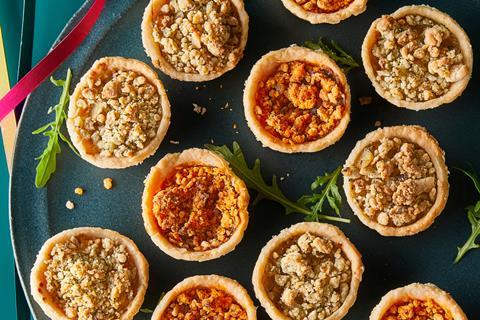 Waitrose has published the latest version of its annual Food & Drink report, which this year provided a glimpse into how consumer habits and trends shifted as we emerged from the pandemic.
Waitrose's CEO, James Bailey, calls it the "homebody economy". Characterised by at-home gatherings, TikTok recipes and an increase in environmental and health-conscious shopping choices, as well as a sharp rise in online shopping, this model has become "an accepted – and popular – way of living", Bailey says.
"People are more conscious of their mental and physical health, they're enjoying life's simple pleasures and have embraced the importance of friends and family.
"But our stores still remain crucial. In fact, they've become 'one-stop shops', with John Lewis products becoming increasingly available in Waitrose stores."
Online shopping proved crucial during lockdown, but it is the return to in-store shopping that marked 2021. The grocer's annual report showed half of British consumers planned to shop in physical stores more often now that restrictions had been phased out, but how else has Covid-19 impacted the grocery sector this past year?
A nation of 'homebodies'
What was initially driven by necessity eventually became a source of enjoyment – one key takeaway from the Waitrose report was that the past 19 months have seen people "fall back in love" with their homes and dedicate more time to improving their cooking skills.
Food and drink have become central to people's lives – 41% of respondents agreed food is more important to them than it was pre-pandemic, while 53% enjoyed spending more time at home.
The return of the dinner party/social eating
As families and friend groups began safely gathering to make up for lost time, many shoppers found themselves retaining this habit and making at-home social eating events a priority.
A quarter of all respondents said they planned to host more dinner parties post-pandemic than they did before. In addition, people are opting for smaller, more regular gatherings than before.
This also means shoppers have increasingly turned to more expensive and better quality ingredients when entertaining guests at home. For instance, sales of champagne were up 40% year on year.
"There is a lot of pent-up need to reconnect with friends and family, and a desire to socialise," Bailey said.
How we shopped
One of the most obvious changes the pandemic brought about was in the way people shopped. While online deliveries have dipped since restrictions eased, the growth of .com heavily accelerated in the past 19 months and this trend is not set to slow down.
Waitrose's website has increased its online delivery capacity from around 50,000 orders a week pre-pandemic to as many as 300,000. The major shift to online shopping helped the grocer reach its target to have its online operations become a £1bn-a-year sales channel one year ahead of schedule.
In addition, Covid welcomed many first-time online shoppers – Waitrose's report showed around 23% of respondents bought online groceries for the first time this year. A further 41% said they had shopped online (but not for the first time), while 36% said they hadn't shopped online at all this year.
But as shoppers returned to physical stores, more frequent shops with smaller baskets started making a comeback. The annual report found around 8% of people now shop for food every day of the week (either in a store or online), which is up from 4% last year.
The daily rise in supermarket trips also reflects a proliferation of convenience shopping, which can be marked by office workers in need of a quick lunch fix as well as those working from home in need of a quick routine break. Waitrose's convenience offering, whether through its app, website, click & collect services or its partnership with Deliveroo, also facilitates the boost in everyday shopping.
This was supported by data showing that, although online growth is set to continue, half of shoppers still plan to head to physical stores more often now that restrictions have eased.
Social media trends
One channel that provided endless sources of inspiration for both old and new at-home cooks was social media. TikTok trends like pesto eggs, feta pasta and tortilla wraps took the internet by storm. Three-quarters of all 18 to 24-year-olds surveyed said they had looked to TikTok or Instagram for inspiration this past year. And across all age groups, nearly one-third of people said they regularly looked at social media for food inspiration.
Plus, social media food crazes have driven sales trends in conventional retailers too. For instance, October saw the rise in 'pasta fries' recipes, which often use kitchen appliances like air fryers – contributing to a 400% rise in sales of air fryers at John Lewis.
Meanwhile in April, when the classic loaded baked potato made a social media comeback, Waitrose.com saw searches for "jacket potato" and "baked potato" rise by 436% and 313%.
The 'great outdoors'
People have spent the past year turning their outdoor spaces into entertainment areas. Over a third of the survey's participants said they used their outdoor space more than ever in the past year, with 37% firing up their barbecues more often than they used to. Such was the need to throw epic barbecue parties that a fifth of those surveyed said they had invested in a new barbecue over the past year.
This trend has also led to some permanent in-store range offering changes – Waitrose now offers some of its barbecue lines all year round, including jerk-spiced chicken thigh fillets and tandoori chicken breast kebabs.
But people's appreciation for the outdoors was not limited to their own gardens. Picnics have been many Brits' go-to gathering of choice since the pandemic began, with just under 40% of respondents saying they have been going on more picnics than in the past.
Environmentally-conscious shoppers
One of the biggest trends this year was eco-friendly shopping. According to Waitrose's report, three-quarters of people have tried harder not to waste food this year. Additionally, 77% said they were concerned about the amount of plastic in their grocery packaging, while 71% said they have tried to reduce the amount of packaging they take into their homes.
This was also evident in the continuous decrease in meat consumption and the rise of plant-based alternatives. Waitrose called this the '5:2 diet', in that people opted to eat veggie for five days a week and go for an animal-based protein on the other two days. The supermarket's vegan range, Plantlife, has seen sales up 21% compared to last year.
Boozy trends
Variety was the keyword for those who enjoy a glass or two at the end of the day. Shoppers became "more adventurous" in their drink choices, as well as more likely to splurge in better-quality products.
Sundowners and aperitifs are on the rise (Aperol sales were up 148%), while people swapped their classic wine choices for new niche wines from around the world.
On the other hand, an appreciation for local produce also resulted in a more varied range of locally-produced spirits being offered at Waitrose.
Finally, British people have embraced the celebratory mood ever since the country opened up – sales of large-format bottles such as magnums rocketed by 87% since last year's report.
Other findings:
Some of the food trends rising in popularity this year included cupboard essentials such as canned fish, nostalgic desserts like Angel Delight and sticky toffee pudding, as well as maple syrup – which saw sales rise by 9% in the past 12 months
70% of people are keeping their store cupboards and pantries well-stocked
One in 12 people across all age groups posted a picture of their food or meal setting on social media, or sent a snap to a friend, in the days leading up to Waitrose's poll – twice as many people as a year ago
The 18 to 24-year-olds are the age group to have become the most adventurous in the kitchen during Covid-19
Sales of sandwiches on the go have bounced back as people returned to a more regular work-life pattern, with Waitrose's bestseller continuing to be prawn mayo
21% of all Waitrose orders via Deliveroo are for fruit and vegetables
As people ditched the office attire for more comfortable clothes, casual loungewear sales rose by 195% this year compared to the same period last year. Meanwhile, sales of tights fell 31% in 2021 compared to February-October 2019
Sustainability will continue to take centre stage in terms of shopping habits – nearly 70% of shoppers said the carbon footprint of their food was either "very" or "somewhat" important
37% of those surveyed agree businesses are doing enough to help the environment, while 27% disagree
50% of respondents are more inclined to donate to charities such as FareShare than in pre-pandemic times
In conclusion, supermarkets were forced to respond to the rollercoaster of changes in government policy and consumer habits throughout the past year, with the full impact of the pandemic still to be felt and measured in months to come.
The annual Waitrose Food & Drink report is based on OnePoll research of 2,000 consumers of all ages, and not exclusively Waitrose customers, in early September. The research was also supported by focus group research, alongside insights from food, drink and retail experts as well as from Waitrose employees, and sales data from its stores and Waitrose.com.