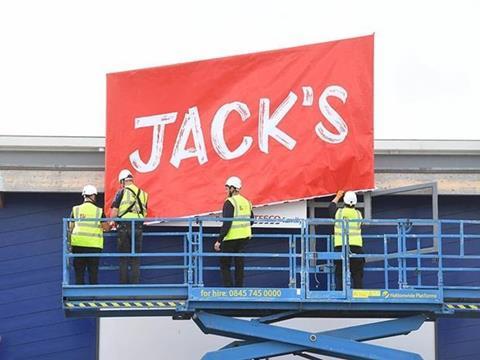 Booker has launched Tesco's discounter brand Jack's as a new symbol format for independent convenience retailers.
The new fascia will sit alongside the Tesco-owned wholesaler's existing symbols Premier, Budgens, Londis and Family Shopper.
It is the latest leveraging of Jack's by Tesco and Booker. Last month, Jack's-branded products were launched in company-owned and franchise One Stop stores, as well as being made available to Budgens and Londis retailers.
The first store to be rebranded as Jack's is set to open on 12 October and is owned by Mo Razzaq in Blantyre, South Lanarkshire.
Currently Razzaq operates his convenience store under the Family Shopper fascia.
Further Jack's-branded convenience stores will be rolled out in Middlesbrough and County Durham.
The new stores will be between 1,800-2,000 sq ft, with a range including more than 500 Jack's-branded products.
Booker said the move formed part of its commitment to unlocking the benefits of being part of a bigger group.
"The range of great-quality Jack's products has already proved really popular with Londis and Budgens customers in the last few weeks, so we're delighted to now also bring the Jack's fascia to our independent retailers for the first time," said Booker retail MD Colm Johnson. "We know that shoppers recognise the great quality and value that Jack's offers, and we're looking forward to seeing how they respond to this new format."
Currently Tesco has 12 Jack's larger-format stores, with an additional shop planned to open in Hull by spring.