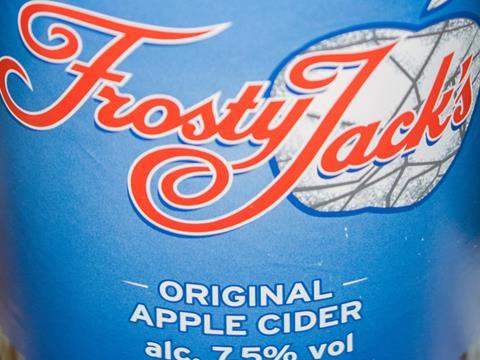 JW Filshill has axed two thirds of white cider SKUs after price hikes forced by minimum unit pricing made the high-strength drinks too expensive for many convenience store shoppers, the Scottish wholesaler has revealed.

Lines dropped include 7.5% abv Pulse, which went from £2.99 to £7.50 for a 2l bottle as a result of MUP, the Scottish wholesaler has revealed.

Twenty SKUs were dropped in preparation for the introduction of MUP, representing around 10% of Filshill's total cider SKUs, said the firm's senior licence buyer Gerry Monaghan.

Retailers under its Keystore fascia have been advised to stock popular lines such as Frosty Jack's, also 7.5% abv, in smaller volumes to adjust to reduced demand, Monaghan said.
Where retailers would once have stocked eight 2l or 3l bottles of white cider, they were now being advised to stock two as well as more cans.

Frosty Jack's had jumped from around £5 to £11.25 for a 3l bottle while a can had gone from £1 to £1.88, with consumers more willing to accept the latter, Monaghan said.

Monaghan said the culling of high-strength white ciders was an industry-wide trend because the introduction of MUP in Scotland on 1 May had made their price point unrealistic for convenience stores.

"That's why we won't stock it," he said. "We suggested that if they want white cider then they move from 3l and 2l to 1l bottles or to cans," he said. "Ultimately they can do what they want but in terms of white cider that's the only ones we suggest they stock.

"What most stores will do is cut the range back and stock less. Whereas before they would have had seven or eight [large bottles], of different brands, they'll now have one or two. They're not likely to have more than that. Because we're rationalising our range, the stores will do that as well." Frosty Jack's 3l bottles had been the "biggest selling pack in the white cider market" before MUP, he added.
In contrast, Filshill has seen double digit growth across all categories of wines and spirits and a 30-40% year-on-year sales uplift in the 660ml beer bottles subcategory, partially attributable to independent retailers achieving price parity with multiple retailers through MUP, according to Craig Brown, Filshill's retailer director.

Junior health minister Steve Brine told the Commons in May that the government was "committed to tackling all alcohol-related harms" and had commissioned PHE to review evidence for introducing a minimum price in England.