Like supermarkets, convenience stores have seen a huge spike in sales. But they face a very different set of challenges
Last week, market share figures from Kantar revealed a massive spike in sales at symbol and independent stores, with an uplift of 45% in the four weeks to 22 March, compared with 20.6% at the major supermarkets.

The headline figures suggest the coronavirus crisis has triggered a bonanza for convenience retailers across the board, but the picture is a mixed one. Some stores have been busier than ever, while the government's lockdown has resulted in others being thrown into serious financial trouble as their customer bases have disappeared.

Even those experiencing increased demand are now facing a host of challenges from disrupted stock levels, implementing social distancing and adapting their ranges to meet a completely different demand. As Association of Convenience Stores CEO James Lowman puts it, "retailers are running on fumes at this point".

His point is echoed by one leading symbol retailer. "The reality is that everyone is completely at the end of their tether and in fact, the whole of retail needs to close down for a few days to catch up," he says. "We seem to be in a very difficult situation here and it feels like we are all out of control."

For most convenience retailers, the principal business concern right now is ensuring they get enough stock into their stores.

Kantar suggested the boost to c-store sales came after supermarket shelves were cleared in the immediate panic buying frenzy. This, explains Lowman, has led to the sales peak in the convenience sector arriving later than it did in supermarkets.

Nisa CEO Ken Towle agrees that for several key grocery and household categories, the sector is still experiencing peak demand. "From a wholesaler point of view we have seen a lag effect," he says.

A typical convenience retailer will hold about 14-20 days' worth of stock at any given time, he explains. In the first week of the crisis, sales may have doubled, with retailers selling through their stockholdings. After that they were ordering in much greater volumes, which has impacted wholesale and supplier availability.
Rising tensions
The picture is being repeated across most delivered wholesalers, and with demand high and deliveries patchy, tensions have in some instances bubbled to the surface. Some retailers are blaming their wholesalers for a lack of products, while for their part wholesalers are questioning their suppliers, and whether they are favouring the major supermarkets.

"It is tough for most suppliers, but we find the best strategy is to work together as we adjust to the shape of what sales look like in lockdown," says Parfetts joint-MD Greg Suszczenia. "A notable exception is the traditional packaged grocery food suppliers. Availability is a massive problem here, and nothing seems to be changing even though we are prepared to accept any pack they send us.

"It is beyond a commercial issue. The communities our customers serve need these products, and this is approaching a scandal unless I'm missing something. At this point, I won't name the suppliers, but if this continues, it will be important to raise the issue through every available channel."
"Availability is a massive problem here, and nothing seems to be changing even though we are prepared to accept any pack they send us"
Pack size issues do appear to be at the heart of the availability issues. The wave of consumer spending that stripped shelves bare in early March, along with absentee issues in factories, has forced many suppliers to revert to a much smaller core range of products and pack sizes. Manufacturers have stopped producing many price-marked packs, which are favoured by wholesalers and convenience retailers, and are focusing on often larger non-PMP formats. James Lowman suggests some of the availability issues could stem from this. Wholesalers are suddenly switching to different pack formats but they don't have as much purchasing history on these lines and are now ordering in far greater volumes than they previously forecast, and so supplier processes will automatically direct more of the available stock to the supermarket channel.

"My team has prioritised all discussions with customers to be around supply, forecasting and availability, explains one wholesale channel sales director for a major supplier. "We are working with each of our customers to understand their forecasts, so we can work with our supply team to get this stock delivered to them. To be able to supply we are urging our customers to be as flexible as possible, with booking in slots into their depots, but also the SKU mix. We are still fully operational and we have stock of all of our brands, we might just need to provide this in a different format."
Other suppliers insist they are doing all they can to provide for all channels.

"As a result of the huge surge in demand for Heinz sauces, Beanz, soups and pasta and the ongoing challenges of maintaining supply across all parts of the trade, we have had to take the decision to concentrate our manufacturing on our most popular varieties which continue to be available to independent wholesale customers," says Heinz UK & Ireland sales director Ross Warnes. "These can be run at maximum speed and efficiency by minimising line changes for short runs. Unfortunately, this means that lower-volume sellers will no longer be available for a few weeks as we replenish retailers and wholesalers with our most popular Heinz varieties and provide stock for care packages to be distributed to the elderly and vulnerable, as well as deliver on our charitable commitments."

Kellogg's has also been focusing on continuity of supply - "to all of our customers, including the independent wholesale channel" says a spokeswoman. "In fact, so far, we have been able to provide more stock than forecasted to a number of our customers across different channels.

"We have seen high demand for our foods and are adjusting our manufacturing and distribution plans as needed, including continuing to run our factories 24/7 to maximise production."

Dealing with these stock issues is clearly a massive challenge, but not an insurmountable one, says the ACS's Lowman. "It's an opportunity for a really good independent retailer to play to their strengths," he adds. "To locate the stock, they need to make things happen quickly."

He cites one independent retailer who was quick to contact a local bakery that supplied bread to high-end hotels and restaurants and was able to quickly start selling the bread in his store.

Another retailer seemingly revelling in the challenge is Houghton Trading's Kishor Patel. Having taken a step back from the retail side of the business to run his restaurant over the past couple of years, he has jumped back in following the restaurant's temporary closure.

He is topping up deliveries to his Nisa Crabtree Lane store in Hemel Hempstead with visits to his local Booker cash & carry, as well as a tie-up with Brakes and other local fresh produce suppliers. "You can't expect everything to be delivered straight to the store," he insists. "There is plenty of product out there, you just have to work harder to make sure you get it."

As well as dealing with shortages, there is another issue many retailers are having to quickly adapt to. Customers now want to buy completely different products than they did just over a month ago. "Our slowest-selling lines became our fastest sellers overnight," says AF Blakemore joint-MD Jerry Marwood.

As several convenience-focused suppliers, including Greencore and Bakkavor, have already reported, the UK-wide lockdown has instantly resulted in a dramatic tailing-off in demand for their key convenience lines, such as sandwiches and prepared meals and salads. With most consumers working from home, they are more likely to want loaves of bread and blocks of cheese than a ready-to-eat sandwich. There has also been a big surge in demand for dry grocery and frozen food. These are categories that most convenience retailers have cut back on in recent years while devoting far more space to ultra-convenient food-to-go offers.

Indeed, data from Him & MCA's new Channel Pulse survey reveals that convenience shopper behaviour has already changed significantly: before the crisis the biggest mission for c-store shoppers was newsagent at 26% followed by planned top-up on 16% and 14% citing food to go. Since the onset of the crisis, 31% of shoppers cited planned top-up as their main reason for visiting a c-store, with 15% citing a distressed top-up. The newsagent mission fell to 15% and just 8% were looking for food to go.

Marwood says retailers can adapt quickly and those that do are likely to benefit in both the immediate and longer term. "For retailers that really make their store central to the community, then hopefully the community will remember when this crisis is over."
Shifting shopper needs hit convenience suppliers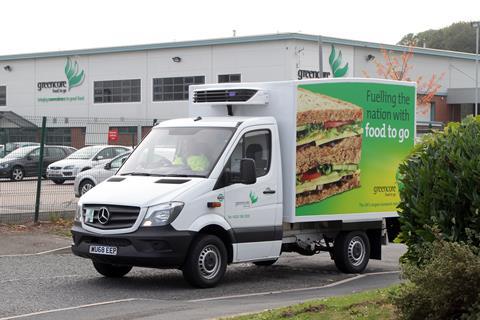 While convenience retailers are desperate to get their hands on more dry and ambient grocery and household brands, two major UK suppliers are already counting the cost of the shift away from convenience-focused food.
Last week, sandwich maker Greencore suspended its financial guidance and outlook due to the ongoing uncertainty surrounding the duration and impact of the coronavirus crisis.
Just a week after the lockdown was introduced it said consumer demand and shopper behaviour had changed rapidly resulting in a "marked reduction" in demand for its food-to-go options in retail and to protect profitability Greencore was "tightening" its food-to-go production network by furloughing impacted colleagues.
Three days later Bakkavor took similar action, acknowledging that in the UK the virus led to a reduction in orders across all categories, notably salads and food-to-go.
"Looking further ahead, we remain confident our business and strategy leaves us well positioned to achieve long-term sustainable growth within the attractive fresh prepared food sector," it added.
Meanwhile another senior wholesale boss told The Grocer he had noticed a decline in tobacco sales in the convenience channel over recent weeks.
He put this down to a number of possible factors including a greater focus on lung health, the closure of bars and restaurants, and more people working from home which reduced the number of visits to convenience stores. The latest Him Channel Pulse survey shows the average number of weekly c-store visits has fallen from 3.8 before the crisis to 2.1.
Another industry source said he suspected that in many cases smokers may have switched to bulk buying from supermarkets.
Survival
For some retailers, however, survival is their only mission right now. Major retailers such as Sainsbury's, the Co-op and WH Smith have already closed dozens of convenience stores in locations that are no longer getting enough footfall. Areas usually bustling with commuters and office workers have become 'ghost towns'. While larger retailers can temporarily sacrifice these stores and take comfort from sales increases elsewhere in the portfolio, there is no such solace for independents operating in the same areas.

Paul Stone runs six Spar stores in the heart of Manchester city centre. The highly successful retailer has won a multitude of awards for his stores, in which he has constantly tapped into the latest trends around coffee and food to go, as well as enjoying a boost from tapping into the night-time economy via longer opening hours and working with partners such as Deliveroo to deliver online for more than three years.

Unfortunately, the city centre is now almost completely deserted and Stone is "now in the fight of my life", he says, to keep the business going.

Stone praises his Spar wholesaler James Hall, which has been "incredibly supportive" but calls for greater help from the banks. They are not responding quickly enough and asking difficult and what he feels are sometimes unnecessary questions, he says, which is slowing doing access to business interruption relief. "The government bailed out the banks a few years ago and now they need to step up so that businesses that were successful before the crisis can keep going," he adds.
"The government bailed out the banks a few years ago and now they need to step up so that businesses that were successful before the crisis can keep going"
Stone and many other retailers like him will be desperate for some sort of normality to return so they can get back to doing what they do best. Others will simply be hoping that their supply stabilises, as it appears to have done in the major supermarkets.

As the crisis continues, retailers have also had to adapt to implementing strict social distancing rules. Many have also begun delivery services for the first time to reach their more vulnerable customers, as well as working to help local community groups, care homes and food banks.

Thousands of c-stores and independent retailers have been playing a crucial role in their local communities - long before the coronavirus crisis and now certainly during it. With the proper support from suppliers, wholesalers, the government and banks they will hopefully continue to do so for a long time to come.