The pandemic drove a huge shift in convenience retail, as independents pivoted to home delivery models. So how did they manage the transition so quickly? And will the trend continue?
Gone are the days when convenience meant a quick trip to the nearest corner shop. For shoppers in the coronavirus era, true convenience means not having to leave home at all.
That much is shown in the latest figures for online grocery, which reached record market share of 15.4% in February, according to Kantar.
It could have spelled a huge missed opportunity for the convenience sector. After all, until the pandemic hit, online grocery was dominated by the mults, with c-stores dipping their toe into home delivery at best.
But if the past year has proved one thing, it's the ability of smaller operators to embrace the digital world at a break-neck pace – and invariably on a shoe-string budget. Association of Convenience Stores CEO James Lowman praises the "remarkable shift" towards online. During the first national lockdown, there were 600,000 deliveries from c-stores across the country, with some retailers having clocked up more than £1m in delivered revenue in the past year.
So how have independent retailers gone digital? Will this trend stand the test of time, or fade away along with Covid restrictions? And how can they compete against multimillion-pound private equity-backed startups such as Getir, Weezy and Zapp, which are promising 15 minute 'ultra-delivery' from dark stores in suburbia?
One thing is for sure: demand for digital services has not slowed down despite supermarkets effectively doubling capacity. Take Dundee-based Premier store owner Akky Hayat, offering delivery via third-party partner Snappy Shopper.
Hayat now fulfils about 150 deliveries on most weekdays and up to 200 on a Friday and Saturday. "The Snappy Shopper app has brought in a lot of new customers," he says. The custom has been worth more than £1m in fact.
Also topping £1m in sales is another Dundee-based store owned by Family Shopper retailer Mo Syed. It's fulfilling more than 70 orders on weekdays, and up to 100 orders a day at weekends with a team of five shop assistants and three delivery drivers. "During 2020, the addition of the Snappy Shopper app sales really helped our business," he says. "We've seen single mums with small children, the elderly and, of course, those isolating who couldn't get out to the shops use it in increasing numbers."
This potential is also tempting major convenience players to make big leaps online. Spar partner AF Blakemore got in on the act early by launching its own online ordering website last May. Other convenience businesses have been similarly quick off the mark, but with one key difference: they are taking a similar tack to Syed and Hayat, and partnering with third-party specialists.
Two different approaches to home delivery
Spar Parkfoot, West Malling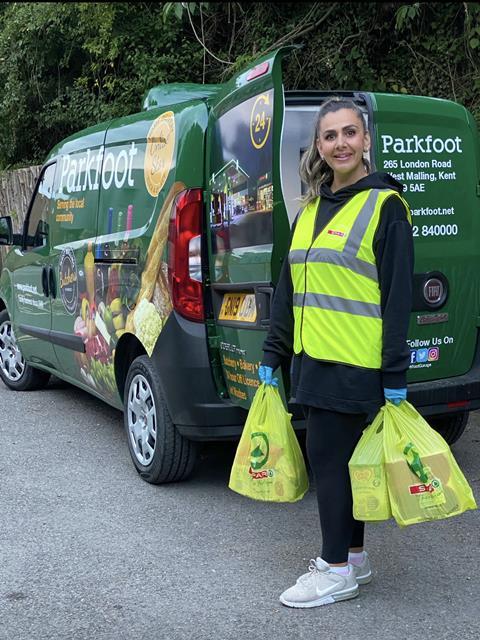 Who's to say a retailer's own in-house service can't compete against the grocery delivery apps? Last September, Spar Parkfoot upgraded its email-managed delivery service with the launch of a new online store, offering customers a more traditional online shopping experience.
"Customers have been drawn to our delivery service since we launched," says Sara Taylor, who runs the service. "Shoppers have started to look at Parkfoot as a destination store, which is putting us on the map."
Since the site launch, the Kent-based store has grown business by 20%, with an average basket spend of more than £50.
Its growing digital presence isn't the only thing tempting in shoppers. They are using it for a top-up mission too. And Taylor stresses those missions remain vital to the health of the overall business.
"The key thing is to keep it personal because it is about serving the community," Taylor adds. "For some customers we are a complete shop, but for others we will be a top-up store. Like our Cook range, where you might not be able to get that in your local supermarket, it's an opportunity to come to our website and buy specific products from that range.
"So it all goes back to our initial goal, which is to help and support the local community and offer an individual service."
Wharfedale Premier, Hull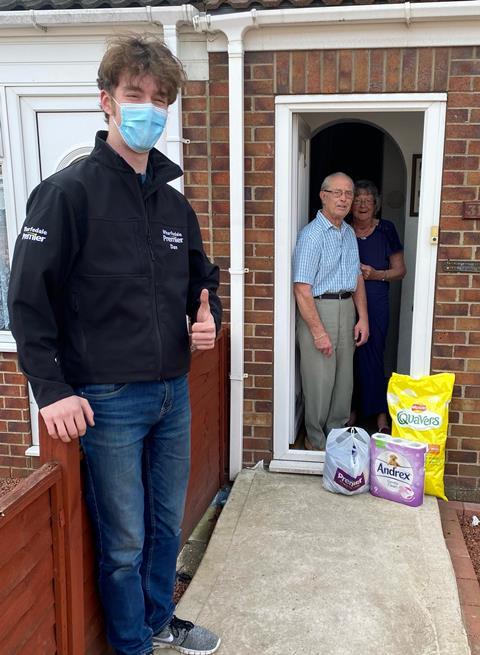 Not all retailers have moved fully online. Wharfedale Premier has soldiered on with home deliveries in a different way: a call-in system that sees customers ring up and "tell us what they like".
Offering contactless transaction and no delivery charge, the Hull-based retailer is still achieving £3,000 a week in sales through its seven-days-a-week service – after reaching £1,000 a day at the height of the pandemic.
Marketing has been important to nailing that success. The retailer posts out promotional leaflets that outline new offers and current ranges – which often spurs a surge in orders.
But there's a vital reason the retailer hasn't gone down the online route. Co-owner Samantha Coldbeck feels making it a permanent feature would be a "handicap" to the business.
The store has never recruited extra staff to process orders, she explains, as it wanted to avoid overcrowding in-store. So capacity is restrained by headcount.
"The staff we have are the ones we need to make sure the business is operating properly. So everybody is here to do a job, and the staff are working even harder to provide that delivery service," Coldbeck explains.
"Deliveries have been a necessity for our customers, rather than our business, so we see it as our way of looking after the community and keeping it safe."
External partners
A whole host of specialist convenience operators have sprung up, making it easy to get set up without in-house technical expertise. As well as Snappy Shopper, the likes of Appy Shop and Jisp offer a suite of services including a full online interface, customer service and marketing – leaving stores to focus on the picking and delivering. The rapid delivery restaurant takeaway giants Deliveroo, Just Eat and Uber Eats have also moved into this area and take care of those aspects too.
Co-op has plumped for the latter model, offering rapid delivery from over 400 of its stores through Deliveroo. Conversely Co-op-owned Nisa is encouraging members to offer delivery through Snappy Shopper, which hopes to recruit 500 of its retailers by the end of the year. Meanwhile, McColl's has expanded its Uber Eats delivery service partnership out to 400 branches.
Bestway has taken a similar but more personalised route, developing its own Home Shop app in partnership with Jisp. Having started as a 12-store trial in November, it extended the option to all retail partners and corporate stores last month.
Bestway's rapid rollout highlights another attraction of third-party services: they are quick to set up and equally quick to deliver results. "The process has been smooth, and at times challenging, working with the complexities of retail, but very exciting when it all comes together and you see the benefits stores can now offer to shoppers," says Bestway Wholesale MD Dawood Pervez. "The early results are highly positive and showing great engagement."
Wholesaler JW Filshill, which partnered with Appy Shop to service its KeyStore retailers, highlights the simplicity of this model. "Our aim was to offer our KeyStore customers a home delivery solution that is both cost-effective and easy to use," says chief sales and marketing officer Craig Brown. "We collaborated closely with the team at Appy Shop to make a service that is not time-consuming or onerous to operate."
Plus, the ease of partnering with an expert is "cost-effective", says retailer Matthew Hunt, who uses Snappy Shopper for seven of his nine Filco Nisa stores in South Wales, which have together made more than 20,000 deliveries. "It was simple to set up. We uploaded the items on to an Excel spreadsheet along with a bar code, description and price. Snappy did the rest," he says.
The growth of businesses like Snappy, many of which count c-stores as a crucial part of their trade, illustrates just how rapidly the convenience sector has embraced online. Snappy itself got off to a slow start when it launched in 2019, with just 30 retailer partners. Fast-forward a year and 700 stores have come on board, making it the most popular online service for convenience retailers, according to research by the ACS.
"Sales through the Snappy Shopper app exploded since the first lockdown in March last year," says marketing director Philippe Rondepierre. "We are still only scratching the surface."
Its rival Appy Shop tells a similar story. Having launched around the same time, it now boasts 1,000 retail partners and has just forged a deal with Unitas. "Collectively we have achieved some amazing things in the past 12 months. Who would have thought we would have seen an average weekly basket spend every week of around £70 per transaction from a single convenience store?" says group sales director James Widdowson.
Meanwhile, Jisp currently operates across 130 stores. It aims to reach 1,000 by the end of this year, and 5,000 by the end of 2022.
That ambition may well be achievable, given the rate of growth in online convenience. At the same time, some perspective is important. According to research by Lumina, only 7% of convenience retailers offer online delivery. And online sales currently account for 6% of convenience grocery, says McColl's – significantly less than the overall market figure of 15%.
Even the ambitious third-party apps offer a note of caution in growth projections. "This isn't going to work for everyone and at the moment there is an overpromise," says Jisp chief customer officer Greg Deacon.
Indeed, it's not as simple as switching on a third-party service and watching sales mount up. Online delivery requires constant management, even through an external app, as Premier owner Hayat can testify.
"Customer service is the most important aspect," he says. "When something is not in stock, we take it offline. Availability is crucial. You can't afford to have out-of-stocks and you always need to have stock back-ups. Communicating with your customer on the phone is also important. We phone them immediately to offer them a substitute brand when needed."
Dark hubs
There is also the issue of ever fiercer competition. That's been noticed by Premier retailer Justin Whittaker, who launched his own site to keep sales going amid Covid restrictions. It's undoubtedly been a success, helping sales surge 45% and giving his store the capacity to continue offering hot food. Whittaker now wants to pursue expansion through dark hubs.
But he's no longer the only player in town. "There's now a lot of local competition popping up," he says. And that increased rivalry isn't just from fellow c-stores but private rapid delivery services like Getir, Weezy and Zapp, all with ambitious expansion plans of their own.
At the same time, the crucial question is what happens once Covid restrictions are lifted. Will the market kick on, as new habits are built upon?
Appy Shop's Widdowson admits there "may be a slight dip" in demand as normality starts to return. However, he is clear there is long-term potential in the model. "Consumers are now very aware of the services being offered by their local stores and shopping habits have changed," he says. "We believe in the months ahead, local home deliveries and click & collect orders will be stronger and in more demand than ever."
That optimism is shared by many convenience operators. Spar points out that online delivery started out, for many, as a way of helping vulnerable customers get their groceries. Now, it sees a much wider future in the service. "In the right store and the right location, it can be a good additional store service as it offers a point of difference when catering to local customer needs," says Spar UK retail director Ian Taylor.
Lowman believes online is here to stay in a range of different guises. "Some will want to keep it home-spun, some will continue but just for vulnerable customers or those with specific needs. Others will commercialise it," he says.
So perhaps the more pertinent question is whether convenience operators can afford not to be online in the post-Covid world. If they don't offer a service, that "untapped" revenue will simply fall into the hands of competitors, warns Snappy Shopper's Rondepierre.
And at a time of such fierce competition, can retailers really pass up on that opportunity?
Delving into Delivery: The Convenience Mix Podcast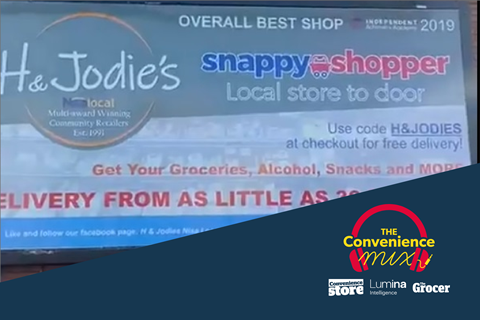 Episode two of The Convenience Mix sees our experts unpick the convenience store home delivery trend. How have retailers embraced home delivery? What challenges have they had to overcome? Which categories offer the biggest opportunities? Will delivery continue to grow post-lockdown? What can we expect for the future of convenience store home delivery? They also speak exclusively to Amrit Pahal of Nisa Local High Heath, an independent retail with a thriving delivery offering to get his perspective and opinion. Listen now.
Online delivery: key convenience partners
Appy Shop
Convenience stores: 1,000+
Who uses it: Costcutter, Nisa, Spar, One O One, KeyStore and more
Cost to retailer:£0 up-front fee and £0 weekly support charge.
Cost to customer: Retailers decide (no minimum value set by Appy Shop)
Delivery timeframe: From orders within 60 mins to three weeks in advance (the latter can be increased per retailer/store if required)
What it says: We have seen an average weekly basket spend every week of around £70 per transaction from a single convenience store.
Snappy Shopper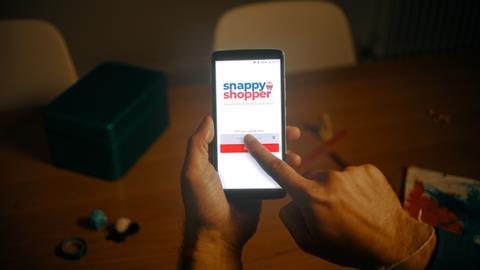 Convenience stores: 730
Who uses it: Regional Co-ops, Spar, Premier, Budgens and more
Cost to retailer: Start-up fee of £500 covers in-store terminal and a comprehensive PoS kit. 1% commission on sales to cover, technical support, customer service and marketing. Cost to customer: £3 for delivery retained by retailer and 4% service charge
Delivery timeframe: As little as 30 minutes
What it says: We've added 13 stores p/w in 12 months. Our top 10 stores averaged £17,600 delivered sales p/w in January. We're still only scratching the surface.
Jisp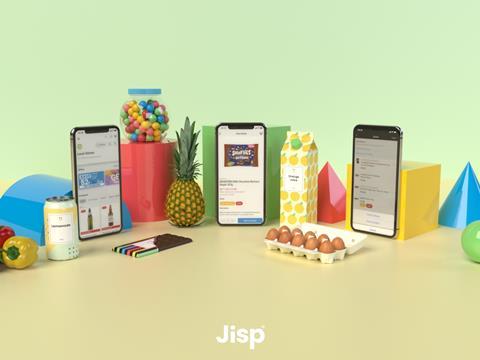 Convenience stores: 127
Who uses it: Bestway, Premier, Today's Extra, Jack's and Simply Fresh, among others
Cost to retailer:£8.50 a week for home delivery and click & collect, but six months of free services. No commission on transaction fees, with 30p fund transfer fee on daily basis
Cost to customer: 3.75% per transaction
Delivery timeframe: Each retailer defines preferences inc timeslots, radius and order limit
What it says: Sales are up 400%. There are options to add scan & go, allergens, gamification and product sharing.
Uber Eats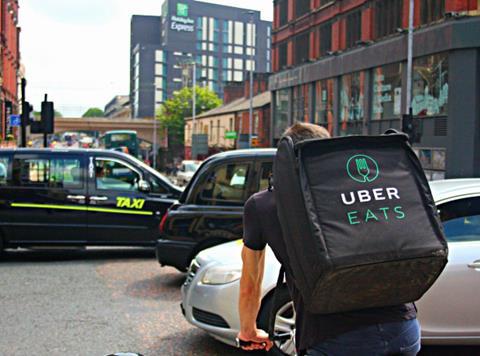 Convenience stores: N/A
Who uses it: Convenience retailers include McColl's, Londis and Select & Save; it has also conducted trials with Iceland, Sainsbury's and Asda
Cost to retailer: N/A
Cost to customer: Products on the Uber Eats app are set by each individual store. Service and delivery fees are calculated at the checkout, and vary depending on basket size and the distance from the store to the customer's location
Delivery timeframe: Delivery arrives at the customer's door in an average time of 30 minutes.
Deliveroo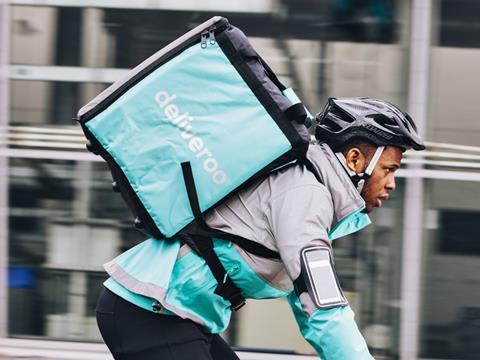 Convenience stores: N/A, but aims to offer grocery delivery in 300 UK towns and cities by the end of 2021
Who uses it: Convenience retailers include Co-op, Nisa, Costcutter and One Stop; and Sainsbury's, Waitrose, Aldi and Morrisons in grocery
Cost to retailer: N/A
Cost to customer: Depends on the distance. The delivery charge from a Co-op store a mile away, for example, can be around £2.50 (there are also service fees)
Delivery timeframe: Again, this depends on the distance, but it can be as little as 10 minutes if the store is nearby.