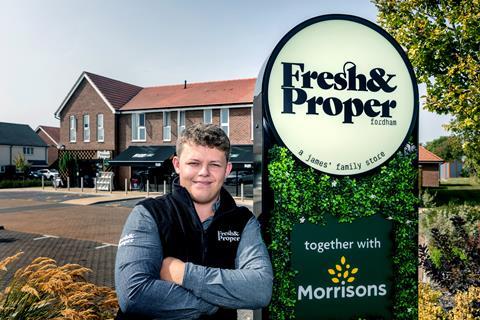 Morrisons has signed up new independent retailer Fresh & Proper as its third Together with Morrisons operator.
Fresh & Proper MD Joshua James – the son of James Graven Group owner Jonathan James – has been working with Morrisons on the project for eight months.
Operating as a separate business from his father's, the launch marks the first store he has opened under the Fresh & Proper brand. It is located in Fordham, Cambridgeshire and has created 14 new jobs.
In conjunction with Morrisons, the 3,000 sq ft store offers a "carefully tailored" mix of Morrisons own-brand and branded products, while Fresh & Proper looks to champion local produce by working directly with suppliers.
"We're delighted to be partnering with Fresh & Proper to open another Together with Morrisons store," said Morrisons sales director for franchise & wholesale supply Paul Dobson.
"We have worked closely with their team to ensure the Fordham community is getting a fantastic store with a mix of Morrisons own-brand products and branded favourites, and we look forward to adding local produce from local suppliers in due course."
Fresh & Proper MD Joshua James said: "We're proud and honoured to be partnering with Morrisons and opening our Together with Morrisons store in Fordham. Our family has been running businesses in this area for over 200 years, including my father Jonathan's first-ever store and a farm shop located on my grandfather's farm just three miles down the road from our new store.
"We're really excited to continue serving the local community and offering our customers access to a wide breadth of products."
The Together with Morrisons proposition is designed for independent store owners with established local brands and larger stores. The first store opened in May 2022, in partnership with Warner's, followed by Jempson's in May.