The Convenience Retail Awards 2017, organised by The Grocer and Convenience Store, celebrated the best retailers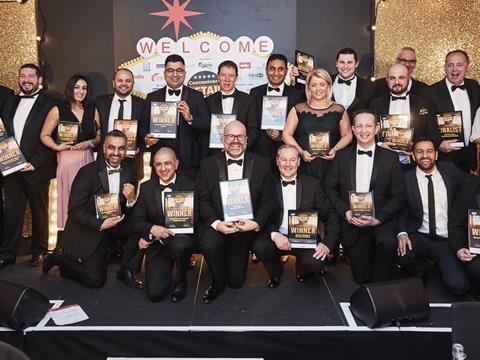 Las Vegas was the theme at the Convenience Retail Awards in London last Thursday (16 March), with Elvis making a dramatic appearance. But it was Northern Irish retailers Stephen and Donna Mullan who stole the show by winning the top prize for their Mullan's Spar store in Armagh. The couple definitely played their cards right, clinching the Convenience Retailer of the Year 2017 title, in addition to the Best Independent Store award.
Donna said: "We've worked so hard for this and we would like to dedicate this to our staff who have been so devoted to us. This makes all the hard work worth it.

"I think we won because we have been so devoted to our community and our staff and our shoppers."

Best Small Store winner Chaz Chahal, of Simply Fresh The Forge Shop, Inkberrow, was equally enthused. "The awards means a lot. It's a validation for all the hard work we've done. The journey we've been on has been challenging and stressful and this validates it all. We've demonstrated that even with a small store you can still deliver the needs of today's shopper missions."

Eat 17 in Hackney, London, won Best Large Store. George Duffy, business development manager at Eat 17, said: "We are very grateful as we try hard to be innovative and it's great to see everything we have been doing has paid off in these awards."

Jeeta Bhadal, co-owner of One Stop Woodhouse in Leeds, which won the Best Multiple or Franchise Store award, said he was "ecstatic" to have won. "I'm really touched. What set us apart was probably our dedication, and our knowledge built up over the years, along with the guidance and support from One Stop."

Convenience Store editor David Rees, who chaired the judging panel, added: "With so many great stores - and with such different business histories, trading locations and consumer propositions - to choose from, it was a very difficult set of decisions for the judges to make. But the shortlisted finalists and category winners all managed to combine a disciplined structure with their own individual points of difference to make them stand out. And nobody epitomised this better than Stephen and Donna at Mullan's Spar, undoubtedly very deserving champions of the industry."
---
Convenience Retailer of the Year
Mullan's Spar, Armagh
Store owners: Stephen and Donna Mullan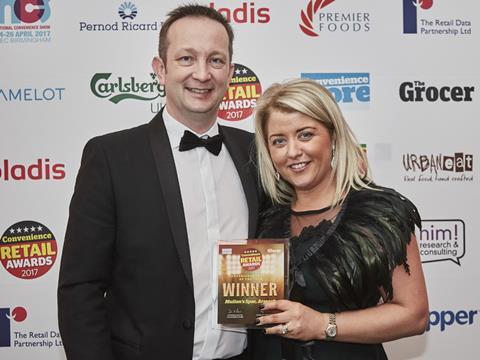 Built from scratch on a greenfield site a decade ago, Mullan's Spar has had three revamps since, most recently in 2016.
The 2,975 sq ft store has given a new emphasis to fresh food, with produce, dairy and the hot and cold deli now accounting for 55% of sales and growing, thanks to excellent quality and presentation, and a thriving hot and cold food-to-go deli service. The kitchen also produces a huge range of Mullan's-branded soups, stews and ready meals.
Wooden cabinets for bakery and a bright ice cream service area help give the store the perfect balance of branded symbol offer and personalised independent, combining the best of both.
---
Best Multiple or Franchise Store
One Stop Woodhouse, Leeds
Co-owner: Jeeta Bhadal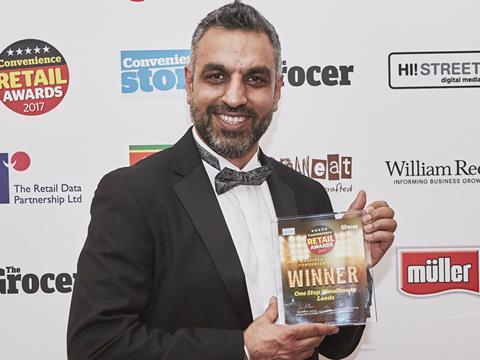 One Stop manages supply overall, but the Bhadal brothers are afforded ample independence
to develop. The store is light, spacious, extremely well merchandised and with an impressive range including a wide array of local products. Sales growth is strong, and the brothers are continually looking to innovate and extend their reach within the community.
The judges were won over by the Bhadal brothers' vision in transforming a former Methodist church into a thriving One Stop franchise store. Sales are growing an impressive 15% year on year, driven by the brothers' retail nous and community engagement, and One Stop's professionalism.
---
Best Large Store
Spar Eat 17, Hackney
Store manager: Giuseppe Deriu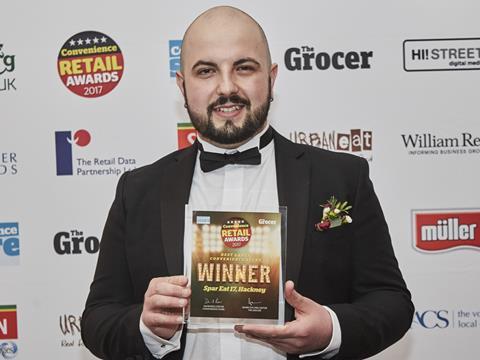 A finalist in last year's awards and already one of the most famous c-stores in the UK, Spar Eat 17 in Hackney has continued to thrive, with sales up 10% under store manager Giuseppe Deriu. The store has added a butchery counter in recent months, following customer demand for high-quality, free-range, organic produce. All meat for the store's thriving burger bar is now sourced from the butchery, meaning customers can enjoy free-range produce at no extra cost. Red wines have been relocated alongside the burger bar,
As well as the new butchery, in recent months the 4,400 sq ft store has installed a cinema above the shop and revamped the off-licence and fresh produce area.
---
Best Small Store
Simply Fresh The Forge Shop, Inkberrow
Store owner: Chaz Chahal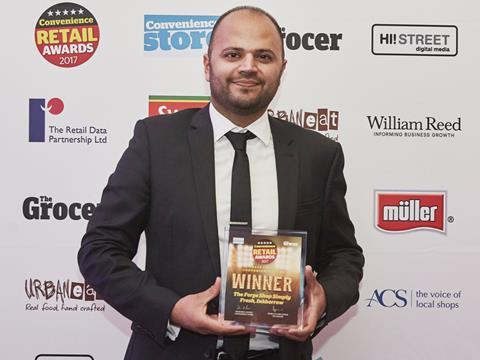 Owner Chaz Chahal has turned this shop from a run-down and traditional 300 sq ft newsagent into a modern store three times the size, achieving regular weekly sales of £19,000.
The task was made more difficult by strict planning regulations, but the modern yet deli-style look is just what Chaz wanted. The store contains 25m of refrigeration with a first aisle devoted to food for tonight and food to go, including a coffee-to-go area, which Chaz designed himself.
Fresh fruit & veg are sourced locally with deliveries two to three times a week. The judges felt Chaz's passion to create the perfect community store for a village to which he had previously been a total stranger was admirable.
● For photos of the night and more information, visit cr-awards.co.uk or conveniencestore.co.uk