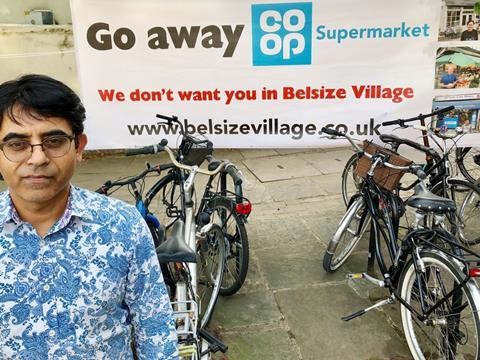 A Nisa retailer in one of London's most privileged communities has joined a campaign to stop the Co-op opening within yards of his store.

The Co-op, which completed its £137m takeover of Nisa in May, is planning to open a new 8,000 sq ft store in Belsize Park just yards away from Nisa member Muhammad Shafiq's The Late Late Store.

Shafiq has recently joined other local businesses and residents in objecting to an alcohol licence application the Co-op has lodged with Camden council.

"They should protect us. Nisa's aim was to protect all small businesses," said Shafiq. "Other Nisa retailers should speak up and do something about it. It's not just me at risk. They will destroy others, also. All of them are under threat."

Jessica Learmond-Criqui, a solicitor from Belsize Park, who is campaigning against the store, said: "Now that the Co-op owns Nisa, I wonder if it is their policy to actively try and put Nisa members out of business."

The Grocer understands the Co-op's negotiations with the site owners began before talks started to acquire Nisa and a spokesman said there were opportunities for both stores to prosper.

"Nisa stores are independently operated and if we worked with these owners to determine the location of our stores we would potentially be restricting local competition for shoppers and be in breach of the law," he explained.

"While the Co-op remains committed to opening the store on Belsize Lane, we believe that both our stores can enjoy success by offering great consumer choice and healthy competition."

A Nisa spokeswoman also cited competition law. "Nisa will work with the retailer to discuss ways we can help to continue to grow their business and believe that through the many benefits of a stronger, Co-op Group-backed Nisa, alongside their own entrepreneurial spirit, there is no reason both stores cannot enjoy success in this location."

Maria Higson, a Conservative Camden councillor for Hampstead Town ward, said the council had received more than 130 objections to the licence application.

A date had not yet been set for the licence hearing when The Grocer went to press.

Under permitted development rights, the Co-op did not need planning consent for the site at 29 Belsize Lane.