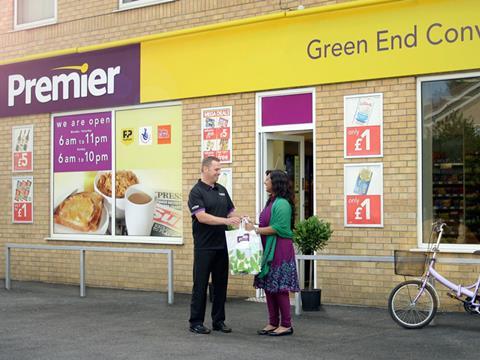 Booker's symbol group Premier is to make its TV debut next week as it kicks off a year-long campaign to increase the presence of the brand and its own-label range Euro Shopper with both retailers and shoppers.
A TV ad campaign will premiere on ITV on 10 September during Good Morning Britain. The ad will run daily for the next year on ITV and targeted digital channels.
The ad, filmed in Cambridge, has been designed to highlight that Premier stores are independently owned, as well as their convenience and strong pricing. It features a store owner greeting shoppers, and a photo montage of 25 Premier retailers.
The ad also highlights a number of deals, including a £3 basket of goods from the 96-strong Euro Shopper range. The TV activity will be backed by increased presence and activity for Euro Shopper in stores and depots.
Steve Fox, sales director for retail at Booker, said new products had also been added to the range, such as a six-pack of its Energy Drink, a six pack of toilet tissue, and a 380g block of mild coloured cheese.
Prices have also been rolled back so there are now 24 products in the range priced at 50p and 15 at £1. Lines that have been rolled back to 50p include sugar, bleach and spaghetti.
Premier's TV debut comes as the symbol celebrates its 20th anniversary. It launched in 1994 with 100 stores and sales of £16m. It has recently passed the 3,000 store mark, and has sales of £884m. It has also enjoyed 12 years of double-digit sales growth.
Fox added that Premier, which has won Symbol Retailer of the Year for two consecutive years at The Grocer Gold Awards, was on target to hit £1m of sales at wholesale in the future. Key categories were also in strong growth, with chilled up 29%, meat up 26% and beer & cider up 26%.