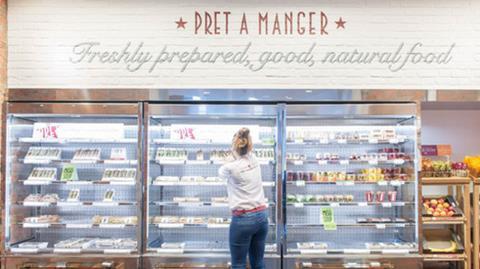 Pret a Manger is set to axe another 400 jobs and permanently close six more stores as the struggling sandwich chain continues to react to the challenges of the coronavirus pandemic.
This latest redundancies come after the chain cut its workforce by a third, laying off 2,800 employees at the end of August.
The six stores will take the total number of closures to 36, with 389 still in operation in the UK.
The high street eatery said its recovery had slowed since September, following four months of sales growth.
It said the recovery had been stalled by worsening Covid rates and the impact on trade in London, while the changes would enable it to continue to adapt through the winter.
"It's absolutely right that we take steps to stop the spread of the virus and tackle the new wave of infections," said UK MD Clare Clough. "Sadly, the result of the rise in infections and the necessary shift in public health guidance mean that our recovery has slowed.
"We've said all along that it's up to Pret to decide our own future and that we must adapt to the new situation we find ourselves in. That's why we have to make these further changes as we continue to transform our business model and prepare for the six months ahead.
"We are doing everything we can to support our team members and to prevent further job losses at Pret."