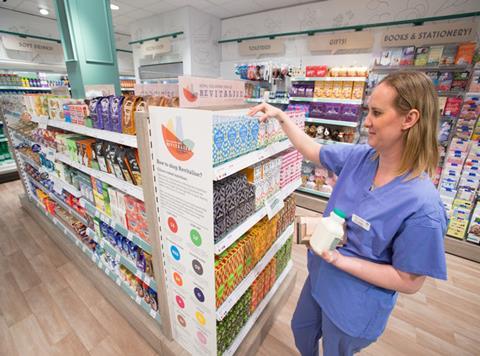 The Royal Voluntary Service has launched a new store to meet new Scottish government criteria for retailers operating inside hospitals.

The first store in the new format, which is named Shop & Co, has opened in Hairmyres Hospital in East Kilbride.

Shop & Co is stocked in accordance with the Healthcare Retail Standard - strict healthy eating rules from NHS Scotland that state 50% of food and 70% of drinks stocked in stores must be low in salt, fat and sugar.

RVS has been working with new and existing suppliers to launch a new range of products for the store.

"For far too long hospitals have not been the most healthy places to buy food and drink, which can't be right when we consider many of the diseases they treat," said RVS chief executive David McCullough.

"We know that NHS staff working in hospitals in Scotland find it difficult to make the healthy choices they want, which is why we decided it was important that we take an early lead on NHS workforce health reform."

According to a survey conducted by RVS, one in seven Scottish doctors and nurses admitted they had a poor diet and three-quarters wanted to see healthier options introduced to their hospital workplace.

"People go to hospital to recover from illness and injury, and the ability to access healthier food complements the recovery process," said shadow cabinet secretary for health and sport Donald Cameron.

"I wholeheartedly welcome the approach being taken by Royal Voluntary Service to increase its range of low-fat, low-calorie and gluten-free options, as well as its focus on offering more fruit to promote the 'one of your 5 a day' campaign and ultimately doing a significant amount in making our hospitals healthier places for patients, staff and visitors."

RVS said Shop & Co Hairmyres was the "first of many" and the government's hospital retail framework would be implemented across the entirety of its estate by the end of this month.