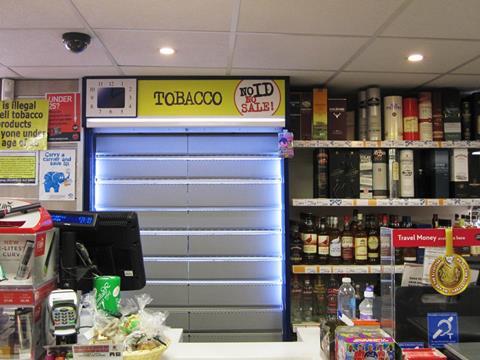 They had a three-year grace period to prepare for the tobacco display ban, but since April this year the window has slammed down hard on c-stores, new evidence gathered by The Grocer reveals.

More than a third (36%) of c-stores have suffered a fall in tobacco sales since the display ban, according to a new poll carried out in the past couple of weeks for The Grocer by JWT.

Of these, the majority (61%) said sales had dropped by up to 10%. However, 35% said the fall was as much as 30%, and 4% reported sales had fallen by up to 50%.

These findings are echoed in a Him! report titled The Tobacco Display Ban in Convenience Stores. In it, 23% of retailers said the ban had negatively affected sales. On average, they reported an 8% decrease in tobacco sales.

The impact of the display ban in c-stores was also flagged up by Booker this week. The wholesaler's sales fell 1% for the six months to 11 September, with tobacco sales down 3.7%.

"The cooler weather over the summer didn't help, along with the growth of illicit trade and moving to vaping products. And then to cap it all, the independents have to deal with the display ban," said CEO Charles Wilson.

The latest figures from Nielsen up to September show the convenience channel having a much tougher time in terms of tobacco sales compared with the multiples. Cigarettes sales in the supermarkets are down 2.4% against the previous year but have fallen 7.7% in the impulse channel. In terms of RYO, supermarket sales are actually up 1.2% with impulse down 3.1%

"We ran a communications campaign to highlight the disciplines required to manage the category before, during and after the implementation of the display ban. Your figures suggest two-thirds of independent retailers have found the transition to be a smooth process by applying these principles," said JTI UK head of communications Jeremy Blackburn.

"Retailers who take time to adjust, invest and improve their tobacco category management through the changes that the market brings will benefit from growing sales just as those retailers who don't see sales slip away."
A crime that doesn't pay: illicit tobacco
Japan Tobacco International says it is continuing to come down hard on retailers selling illicit tobacco.
Last week, JTI removed its tobacco gantry from Amani News in Stockport Road, Levenshulme following a prosecution by Manchester Trading Standards for dealing in illegal cigarettes and tobacco.
"If this type of crime continues, customers will lose trust in their local shops as the false impression grows that all of the independent trade is rife with 'dodgy cigarettes'," said JTI UK head of corporate affairs Charlie Cunningham-Reid.
"Our commitment to support the actions of Trading Standards and HMRC is steadfast and we must work together to take a stand against illegal tobacco."
Speaking in support of JTI's action, Bestway group director of symbol James Hall said: "Selling illegal tobacco must be seen as a crime that doesn't pay, which is why, following this prosecution, Bestway has decided to remove all future support from this particular shop."