Shopworkers are being attacked, threatened, and even killed while on duty in convenience stores. Armed robberies cause untold damage. Yet they're occurring with worrying regularity
One morning in May 2019, Mike Mather, then store manager of Lowton Co-op in Warrington, received a call. "I never got phone calls on my day off," Mather recalls. "But I took this call from the assistant manager, who was shouting: 'We're in an armed robbery'."
Three men were forcing their way through the store's reinforced doors with a getaway car waiting outside. "They had a machete," Mather remembers. "There were some team members on the shop floor at the time and one of them was assaulted. She was shoved into some shelving. Bruising up and down her legs and on her torso. The other team members managed to lock themselves away."
The gang shouted at those locked away: "If you come out, we're going to kill you." In less than three minutes, the men had filled a rubble bag with cash and tobacco from the gantry and fled the scene. By the time Mather arrived, 10 minutes later, the group was long gone and police were assessing the damage.
"They've taken 28 convenience stores but they've probably affected 70, 80, 90 people's mental health"
Lowton Co-op wasn't the only store attacked by the gang that year. The group carried out 28 armed robberies in a seven-month period, with Co-op, One Stop and McColl's stores all targeted. Jack Yarwood, Michael Burke, Stuart Watson, Daniel Adamson and Michael and Connor Kedie were eventually jailed for a total of more than 50 years in June 2021.
In Mather's opinion, it should have been longer. "They've taken 28 convenience stores but they've probably affected 70, 80, 90 people's mental health," he says. "It makes me really angry that you can't come to work to earn a living without people thinking it's OK to do this for a couple of thousand pounds per shop. They've changed somebody's life."
And it's far from an isolated incident. Convenience store armed robberies in the north west continue to rise. The store in Lowton fell victim to another armed robbery just a year later, while two Warrington Co-ops both suffered incidents in the first week of 2022.
That pattern is reflected nationally. There has been a 650% rise in retail violence over the past five years and the Association of Convenience Stores estimates 40,000 violent incidents occurred in the sector in 2020 – equivalent to more than 100 per day. Sainsbury's alone experienced 4,500 violent incidents involving a weapon in 2020, up by more than a third on the year before, it recently told the Home Affairs Committee. The most common weapons are knives, machetes, blades, needles, scissors, and screwdrivers, it says.
Dr Emmeline Taylor, criminologist at City, University of London, says the rise in the sector is partly due to changes in criminal tactics. "Historically, armed robbers used to target quite high-end banks," she explains. "They have securitised to such an extent that, for your average robber, it's just too much hard work."
As a result, armed robbers have chosen "softer targets" with less security such as convenience stores, while amateur criminals can now commit violent incidents as often as professional gangs. Taylor says the average armed robber is a lone male in his 30s using a knife, often committing crime to fund substance abuse.
"Now you have these much more amateur and desperate robbers they're much more high-risk," Taylor says. "And much more willing to use violence."
That is exemplified by the experience of Lynn Bodell, who was working her regular Sunday shift with 16-year-old son Dylan at One Stop in Woodcross, Wolverhampton, just before Christmas. At one point, Lynn went to the stockroom to fetch more carrier bags.
"As I came back into the shop there was a man behind the till shouting: 'Give me the money, give me the money' to my son Dylan," she recalls. "The robber got a bottle from behind the till and started smashing the till drawer with it. I told him to stop because we were scared of the bottle smashing and him coming at me with a broken bottle."
The attacker escaped with some notes and change from the till, as well as a couple of spirit bottles from behind the counter. "I was just panicking, shaking," says Bodell. "It was awful, a horrible situation to be in."
"Now you have these much more amateur and desperate robbers they're much more high-risk"
Lynn pressed the panic alarm but the police didn't turn up for about 20 minutes – around the same time it took for store owner Serge Khunkhun to arrive on the scene. Khunkhun, who has owned the One Stop for 14 years, has himself noticed an increase in criminality. "This year has probably been the worst year for shop losses," he says. "In all the years we've been here, we've not encountered that level of attack on the shop."
The police response left him frustrated. "It's just ridiculous," he says. "Twenty minutes for the police to turn up. It comes down to a lack of resources. The fact that numbers are being cut to such a bare minimum. It's just frustrating you have to put up with this and live with the thought that it's highly unlikely anyone's going to get caught. It makes you angry."
West Midlands Police says it called the store at 2.52pm, five minutes after it activated the alarm. They were told a robbery had taken place and the offenders had fled. When officers arrived at 3.12pm, CCTV was seized and witnesses interviewed.
The police clearly feel they are doing all they can – yet Khunkhun's concerns around their response are shared across the sector. The ACS 2021 Crime Report found 84% of retailers that had experienced robberies were dissatisfied with the police investigation. A Co-op report found police are failing to attend two out of three of reported crimes at its stores. As a result, shopworkers now only report 30% of incidents.
"The police response is hugely lacking," says City's Taylor. "They don't have the resources, they don't have the time, and quite often they see this as a retailers' problem." If an incident has already happened and the perpetrator has left the premises, the police often simply want the CCTV and prioritise other callouts that are more urgent or serious, she says.
Yet diverting resources to "more serious" crimes may be a false economy. Around two-thirds of retail criminals are repeat offenders, according to the ACS crime survey, and their crimes often become increasingly violent. On occasion, with fatal consequences.
"We've got a high homeless population, high levels of drug abuse, more kids in poverty than for decades"
Alex Gunn, 31, was described as a "one-man crimewave" after he killed 54-year-old shopworker Ravi Katharkamar in March 2019. When he stabbed Katharkamar in the chest, he'd already committed eight other robberies to fund a drug habit, while on a suspended sentence for motor offences. The Grocer asked the Metropolitan Police about the status of the investigations into Gunn's robberies when he murdered Katharkamar. They were unable to answer, explaining the investigating officer had since left the force.
Gunn's case suggests if police want to have maximum impact, not only in reducing the volume of thefts, but in eliminating some of the most violent encounters as well, it will be essential to target repeat offenders.
In the meantime, shops have taken it into their own hands to boost security measures. The British Retail Consortium's most recent figures relate to 2017/18, when retailers spent an estimated £1.2bn on crime prevention. Anecdotal evidence suggests it has risen since then. Last July, Co-op said it had spent £140m on technology such as body-worn cameras and intelligent CCTV to spot persistent offenders and give police access to a wealth of new evidence.
But for Taylor, such investments only go so far. "We've got a high homeless population, high levels of drug abuse, more kids in poverty than for decades." Unless these are tackled, she concludes, it's hard to envisage a day where shopworkers will be able to go to work entirely free from fear.
For Mather, that one phone call in May 2019 changed his life. "You never, ever get over something like that," he says. "The store was put back together, the stock was replaced. But these people will never have the same feeling of coming to work in the morning, not knowing whether that knock on the door is the bread man or someone wanting to come and hurt them."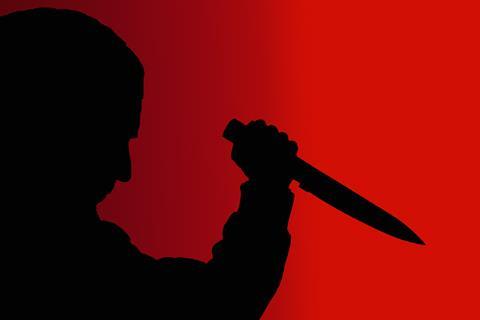 What are those in power doing to deter offenders?
Four years ago, when the first signs of rising retail violence began to emerge, there was little recognition from those in power. "In 2018, no one was talking about this," says Paul Gerrard, who leads campaigns for the Co-op. "Politically it was not an issue."
This has now changed, largely thanks to the campaigning of Co-op and Usdaw, as well as the work of the National Retail Crime Steering Group, co-chaired by the BRC and Home Office minister Kit Malthouse.
In December, the government tabled an amendment to the Police and Crime Bill, to make assaults on shopworkers an aggravated offence. This should result in tougher sentences, and follows the introduction of a similar offence in Scotland.
Gerrard says the amendment is "a powerful statement that the government is taking this seriously".
But the work doesn't end there. According to Gerrard, the legislation "doesn't change what's happening on the ground unless the police start to take it more seriously." The Co-op is therefore working with the Police and Crime Commissioners to ensure retail crime is appropriately resourced.
"We've had colleagues who lost an eye or miscarried or had permanent mental injury," he says. "If you're wishing your husband or wife off to work you don't expect to be worrying about them coming back in one piece."