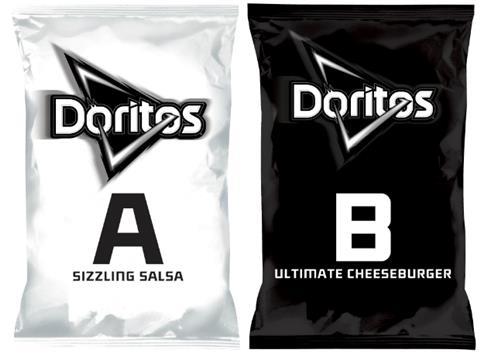 PepsiCo has launched a new competition promotion that asks Brits to vote for which of two new Doritos flavours ought to be axed.
A £20,000 prize is on offer to the shopper who comes up with most 'creative' idea of how to 'eliminate' or destroy Sizzling Salsa or Ultimate Cheeseburger. Both are packaged in 200g monochrome bags (rsp: £1.99), with the survivor set to roll out later in the year. The promotional packs are available from now until early September.
Entries can be submitted via Facebook, Twitter and at AorB.Doritos.com using the hashtag #DoritosA (salsa) or #DoritosB (cheeseburger) for the variant they want dropped. Consumers will have the opportunity to interact with the campaign via bespoke digital content seeded across Doritos' social channels throughout July and August.
The competition finale will see the winning elimination idea brought to life as an animation.
The new promotion was a "fun concept" that tied in with Doritos' "bold brand messaging" said marketing manager Andy Hawkswell.
"Experience tells us that customers will love the interactive aspect of the promotion and retailers will benefit from heightened interest in the brand. We're really looking forward to seeing the nation's creative elimination ideas and finding out which flavour will survive."