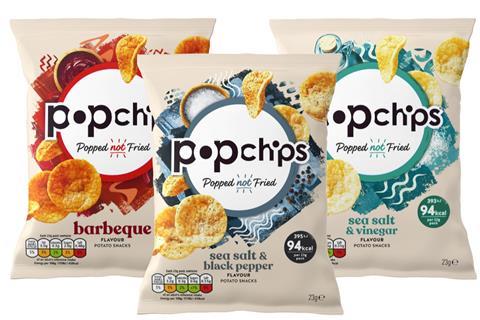 KP Snacks is overhauling its better-for-you Popchips brand.
The savoury snack giant is relaunching the brand with a new look and moving its production in-house.
Popchips were previously made in the UK and Belgium, but they will now be made at a new 1,800 sq ft facility at KP's Leicestershire base – creating 24 jobs.
KP has also slashed 10% of the packaging from the range, which includes Barbeque, Sea Salt & Black Pepper, Sour Cream & Onion and Sea Salt & Vinegar variants. It claims the move will remove 23 tonnes of plastic from the supply chain every year.
The new-look, reduced-size packs will roll out from November to January. The design "prominently features core ingredients, gives the brand standout and is more fun and relevant", said KP.
"It incorporates Popchips' signature tagline, 'popped not fried', and is designed to appeal to consumers from a design perspective and increase purchasing intent," it added.
The plastic reduction is the latest step in KP's 'Packpromise' programme, which aims to make all of its plastic film packaging fully recyclable by 2025.
KP marketing director Kevin McNair said the business was "delighted to be able to bring production in-house at our state-of-the-art Ashby factory", calling it "an exciting time" for Popchips.
It comes as volumes of Popchips snacks rose 8.2% over the last year.
However, this did not translate into any value increase – value sales were down £250.8k (0.8%) to £31.4m [Nielsen 52 w/e 5 September 2020].
It marks a reversal of fortunes for Popchips: this time last year, the brand's value sales had grown by a cool 22.1%, rising £5.7m to £31.5m, on volumes up 21.2% [Nielsen 52 w/e 7 September 2019].