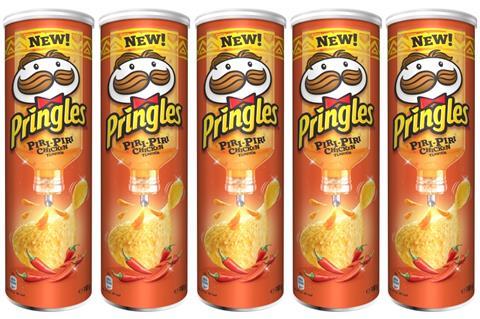 Pringles has spiced up its offer with a new Piri-Piri Chicken flavour.
The NPD, billed as being inspired by the much-loved Portuguese barbecue sauce, contains bird's eye chillies.
It was chosen for release after it topped six other flavours – including Spicy Buffalo Wings, Pizza and Chilli Cheese Fries – in a poll of shoppers conducted by Kellogg, which owns the brand.
"We're always looking at new flavours, as we aim to bring our Pringles fans different tasting experiences, and this just blew our snack testers away," said Kellogg seasonings food designer Kristien Thoelen.
"Using the bird's eye chilli, it isn't for the unadventurous, but we're sure those who love extra hot, hot, medium or mild will enjoy our new addition."
It follows the launch of Pringles Rice Fusion crisps – an Asian-inspired healthier snack alternative – in February.
The four-strong range, which took two years to develop, is made with a principal ingredient of 24% rice, rather than the 42% potato of regular Pringles and contains around 2.6g of saturated fat per 100g – about 23% less than the brand's core crisps.