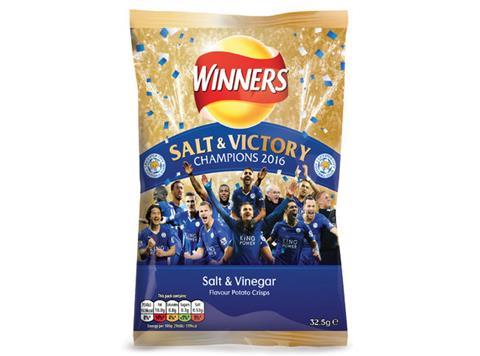 Walkers is rolling out its Salt & Victory crisps to retail, as it continues to celebrate Leicester City's Premier League triumph.

The blue and gold, special edition bags were produced by the Leicester-based snack brand last week, with tens of thousands handed out in the city's street, through the local newspaper, and at LCFC's King Power Stadium.

Walkers originally had no plans to sell the salt & vinegar-flavoured crisps, but they will be available to retailers in the Leicester area from today (12 May), following demand from the football club's supporters.

"They were so incredibly popular that we were inundated with requests from Leicester fans wanting to get their hands on a packet," said marketing director Thomas Barkholt.

"As a result, we made the decision to extend production and make the packs available to retailers throughout Leicestershire. We hope that Leicester fans will embrace the opportunity to get their hands on one of these celebratory packs and enjoy a little taste of victory."

All profits from the 32.5g bags (rsp: 57p) are set to go to the LCFC Foxes Foundation, which raises funds for charities around Leicestershire.