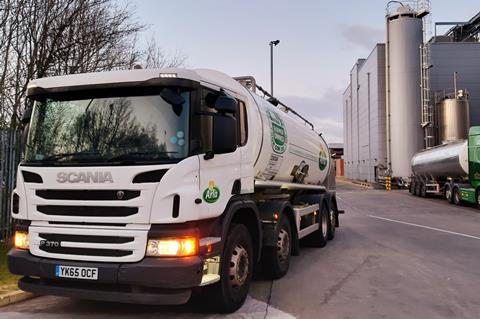 Arla Foods has reported strong sales and profit growth for the first half of 2022, but is warning the rest of the year could see a significant slowdown amid continuing input inflation, rising retail prices and a pullback in milk production.
The dairy co-op saw its global turnover grow by 17% to €6.4bn during the first six months of the year, according to its half-year report, published today.
This was fuelled by a "significant milk price increase driven by [rising] commodity prices", Arla said, while global pre-tax profits also rose strongly – jumping by 9% to €230m on the back of a "robust" performance by the business, particularly in international markets.
The dairy giant's growth came despite what Arla described as an increasingly "volatile environment" driven by mounting inflationary pressures, which led its UK business to report far lower year-on-year sales growth of 8.3% to £1.15bn.
Much of this lower UK growth was also driven by price increases in retail and foodservice – which had been "necessary to support farmers with on-farm costs challenges", Arla said, while noting how its farmgate price had risen by 30% this year.
With shoppers already tightening their belts, its total UK branded revenues for the first half of 2022 also fell, by 6.3%.
Lurpak – which along with other brands such as Cravendale and Lactofree has seen big price rises in the mults in recent months – was a notable faller, as a return to pre-pandemic usage occasions also contributed to a 15.4% drop in sales, Arla said.
But with the cost of production also rising by about 51% since the start of 2021 [Kite Consulting] and feed prices up by 73%, it warned the impact of this inflation was still affecting farmers and was now also being felt in reduced milk volumes.
As a result, the supplier has also announced it would make its first ever supplementary payment to farmers across Europe of an extra euro cent (or 85p) per kg in a bid to mitigate these pressures. But with a recession approaching, Arla warned of a "challenging" short-term outlook for the business.
"We are facing extraordinary times in food production as both our farmers and the company face high levels of exposure to inflationary pressures and costs increasing right across the supply chain," said Arla UK MD Ash Amirahmadi.
Warning that retail prices would continue to rise against this backdrop, Arla faced "a significant challenge in balancing the price consumers pay with the need to ensure our farmers are paid enough to continue producing milk and protect security of supply", he added.
"As consumers are trying to manage household budgets, we are doing all we can to absorb as much of the costs as possible to ensure dairy remains an accessible source of food. However, the unprecedented volatility and cost rises we are seeing at both farm and business level mean that consequently, our customers have also determined to increase their retail prices."
Looking ahead to the rest of the year, Arla warned "ongoing inflationary pressure and political unrest" would "negatively" impact global growth.
"Arla expects the second half of 2022 to be even more challenging as global milk production is expected to decline further and contribute to sustained high dairy prices, which will likely further diminish consumer confidence and consumption," it warned.
And amid the deteriorating economic picture, the dairy co-op has now downgraded its full-year global expectations, with branded growth expected to fall by between 2% and 3% globally. It grew by 4.5% last year.
"2022 continues to be characterised by volatility and inflation, exacerbated by Russia's invasion of Ukraine," said Arla Foods CEO Peder Tuborgh.
"Changes in consumer behaviour continue to be multifaceted and difficult to predict and we expect our branded growth will slow down further."