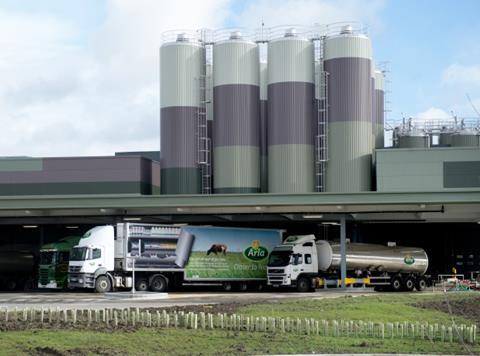 Arla has warned the dairy supply chain will face increased costs in 2021 as tighter global cereals supplies start to impact on feed prices.
Speaking last week as the dairy co-op reported strong results for 2020, Arla Foods UK's finance director Simon Ho cited recent research by Kite Consulting, that suggested shortages could lead to a 6% increase in the cost of production.
For British farmers that could amount to additional costs of £285m in 2020. "That volatility isn't going to go away," he told The Grocer. However, he stressed Arla's milk price had remained "stable" so far.
Elsewhere, the dairy co-op was forced to cut the amount of SKUs it distributed in the south east of England by 25% in January – leading to shortages of some products such as Big Milk and Arla Skyr – due to Covid-linked absence levels of more than 20% at its Hatfield depot, confirmed Arla Foods UK MD Ash Amirahmadi.
However, supplies were now back to normal, with absences down below 10%, he said.
The SKU simplification echoed moves by the supplier last spring, when it decided to axe more than a quarter of its branded and own-label liness from supermarket shelves across the UK in a bid to keep supplies on shelf during the first coronavirus lockdown.
It comes as the dairy giant reported a 9% increase in total UK revenues to £2.12bn in 2020, driven by a 13% increase in branded sales and a 4% rise in own-label sales.
The Arla brand enjoyed an 8.8% increase in revenues, with Cravendale up 23%, Lactofree up 11%, Anchor growing 9% and Lurpak rising 15%.
This counterbalanced a big fall in sales through foodservice, with its Arla Pro brand seeing a 6% decline in revenue growth.
Amirahmadi added that he expected the spike of at-home lunchtime occasions the brand saw last year to continue into 2021, albeit at a slightly reduced rate.
Arla also planned to invest more money in marketing to capitalise on the "channel shift" into convenience and online this year, he said, while sales of its first plant-based product, the Jörd oat drink, had performed strongly.
"It's in the top 25% in terms of rate of sales for oat-based products in Sainsabury's, and we've just launched it into Asda," he added.
Across the global Arla business, total revenue rose by 1% to €10.6 billion in spite of a 12% revenue loss from foodservice due to the effects of the pandemic. Global branded sales volumes grew 7.7%, helping pre-tax profit rise strongly, by 11% to €386m.