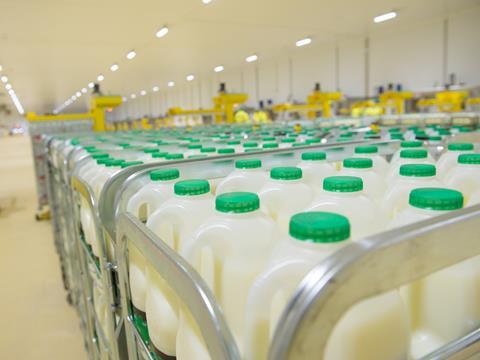 The dairy sector is on the verge of a new crisis - and this time it's processors, rather than farmers, staring down the barrel.

Average profit margins for the seven largest milk processors have plummeted by almost 86% to just 0.14%, according to analysis by The Grocer of 2017 accounts lodged with Companies House. After an equally punishing 2018, several processors are now understood to be facing financial difficulties.

Tomlinsons Dairies, which supplies own-label milk to Sainsbury's in Wales, has called in advisors to explore options amid those plummeting margins. It follows the decision by Hampshire-based Pensworth Dairies last month to halt processing its own milk, citing overcapacity in the market.

The situation in the liquid milk market has become so desperate that Müller Milk and Ingredients CEO Patrick Müller this week warned the sector had reached a "tipping point" in terms of profitability.

So why is it in so much difficulty, and how can the situation be improved?

Pricing

Despite these well-documented struggles, the price processors get for their milk is actually trending upwards, according to the AHDB's producer price index. Apart from a dip during spring, the index has recorded steady increases in the price of manufactured milk since last October. But this doesn't tell the whole story.

"So much of the relationship between retailers and processors is confidential, we'll never have full visibility," says AHDB senior analyst Patty Clayton.

What we do know, one industry source points out, is that supermarket supply deals have historically been weighted towards high volume and low margins so as to sustain low shelf prices. They are also used to "cross-subsidise" more expensive systems, such as retailer-aligned milk pools, and this has contributed to a commoditisation of the sector.

The resultant wafer-thin margins mean it has become increasingly difficult for suppliers to make any money, says John Allen of Kite Consulting.

"All the value has gone out of the category, nobody's making any money out of the sector and the only beneficiary has been consumers, who have enjoyed cheap milk."

This approach has to stop if consumers want fresh liquid milk at all, warns Müller. Without drastic action, liquid milk processing could go the way of the British shipbuilding sector, resulting in a long-term decline in fresh milk on sale and even a shift to UHT, he says.

Bringing about a fundamental recalibration of the UK liquid milk market, however, would be a huge challenge.

It would have to start with processors moving away from commoditisation to adding value through packaging and drinking format innovation. More processors would also have to enter strategic supply partnerships with retailers, ­suggests Müller.

"We have been very patient when it comes to the consolidation of the sector and helping the industry keep farmers alive," he adds. "But we're not sustainable if we're loss-making. They will have to decide, do they want fresh liquid milk? If they do, they need to support processors and the wider supply chain."

Then there's the thorny subject of price. Although Müller won't be drawn on pricing, one way retailers could support processors is through higher prices - backed, crucially, by efforts to get consumers to buy into paying more for milk.

Bad timing

With a shift in pricing policies unlikely to be achievable in the short term, processors face another looming problem. They and dairy farmers are currently at loggerheads over Defra plans to introduce compulsory milk contracts, replacing the voluntary system currently in place.

Such plans would require fixed price or formula-based contracts, heralding the end of ad-hoc pricing initiatives used to address short-term market volatility.

This would improve transparency in the sector, claims farming minister George Eustice, but processors worry it would tie them into inflexible contracts at a time when they need all the flexibility they can get.

Whether both sides can find a compromise could well determine the UK milk sector's long-term future.