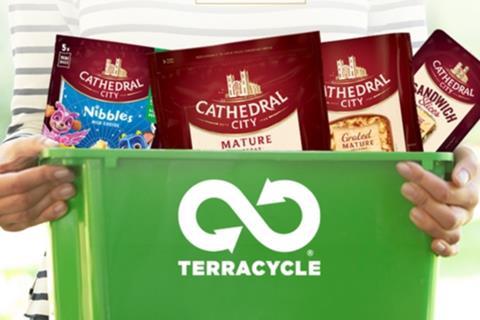 Cathedral City owner Saputo Dairy UK has claimed an industry first with the launch of a recycling scheme for flexible film cheese packaging.
The nationwide scheme – created in partnership with recycling experts TerraCycle – will accept all types of cheese film packaging, not just Cathedral City's, and was the latest step in the brand's plan to switch to 100% recyclable packaging by 2022, it said.
The programme, which launched last week, would encourage people to collect flexible film cheese packaging and drop it off at one of the scheme's public access drop-off points across the UK, Saputo added.
It had been developed in recognition of the fact cheese film packaging was "notoriously difficult to recycle" because of its use of a number of different layers, the processor said. Those layers helped to ensure that cheese did not become contaminated before opening, had a good best before date and stayed fresher for longer.
New packaging from Cathedral City, launching alongside the TerraCycle scheme, would "display simple and straightforward directions for recycling", Saputo said. Consumers wanting to recycle their plastic could also search for their nearest public access drop-off point at cathedralcity.co.uk.
The plastic from the collection points is then sent free of charge to TerraCycle before being sorted, aggregated and sent for processing. The collected plastic was then shredded, washed and converted into pellets or flakes, before being transformed into durable products such as outdoor furniture or waste bins.
If there was no public drop-off point nearby, people could also sign up to open a public collection point themselves, Saputo said, "and allow their whole community to collect the flexible film cheese packaging".
"Without a standard recycling solution in the industry, consumers are unsure what they can recycle and where," said Saputo Dairy UK marketing director Lee Willett.
"The new partnership with TerraCycle aims to address this confusion, making it quick and easy for people to recycle their packaging at a local collection point."