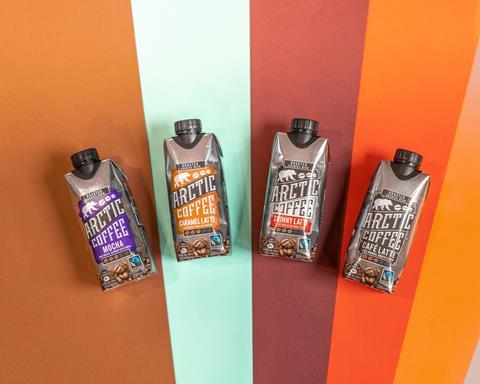 Dairy drinks supplier Crediton Dairy overcame "difficult" dairy market conditions to post a 6.9% increase in sales to £74.5m last year, latest accounts have shown.
The Devon-based processor was buoyed by a "strong increase" in sales of its growing range of added-value, branded and own-label dairy drinks and speciality milks, according to results for the 53-week period ending 4 January 2020.
Volume sales of Crediton's iced coffee products grew by 58%, driven mainly by the continuing strong performance of its Arctic Iced Coffee brand. And despite a 2.8% volume drop in the long-life milk category last year [Kantar], Crediton's extended shelf life dairy drinks business also performed well, it claimed – due in part to the launch of an own-label lactose-free milk in a number of retailers and the growth of its own-label flavoured milks.
The supplier ploughed a total of £8m into capital investment in 2019 – some 4.5 times the investment of 2018 – as it modernised its manufacturing site and created a now-operating second filling hall for the production of added-value dairy drinks and speciality milks.
However, this investment ultimately impacted on profitability, said MD Tim Smiddy, with pre-tax profits falling by 28.6% to £4.5m due in part to the impact of construction on the day-to-day running of the business.
"We're pleased with the top-line growth, especially in added value," Smiddy said, as he described 2019 as a "year of transformation".
Profit was "disappointing", he pointed out. "But we understand the reasons why. We had to go through this process, and with the new filling hall now online, profitability should return to where it should be."
Crediton had invested £22m in the business since a management buy-out in 2013 and planned to invest a further £7m in capital expenditure this year, Smiddy added, as it completed last year's works and further built up production capacity for added-value drinks ahead of Brexit.
"Despite the impact of Covid-19, this we believe will leave Crediton Dairy well-placed to meet growing consumer demand for new, added-value dairy drinks and speciality milks that deliver both flavour and functionality."