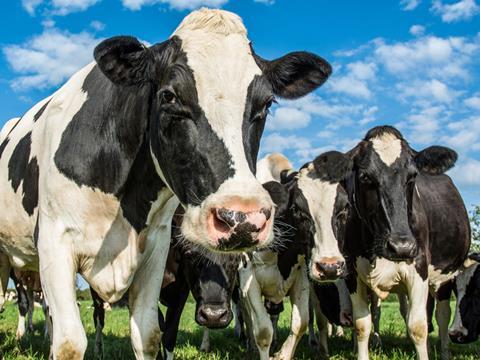 Milk processors are reducing the amount paid to their dairy farmers as demand from the foodservice and hospitality sectors collapses

Dairy UK has called on the government to compensate farmers disposing of milk
The government has been urged to step in with financial support for the dairy sector, amid a growing crisis now driving some farmers to start dumping their milk.
With demand collapsing from the foodservice and hospitality sectors due to the effects of the coronavirus pandemic, processors and suppliers such as Freshways, Graham's the Family Dairy, Dairy Partners and Pensworth have all reduced the amount paid to their dairy farmers in recent weeks.
Medina Dairy was the latest processor to follow last week, as it cited "significant and unprecedented commercial and financial pressures" when it cut 2ppl off its May price to 23.75ppl and delayed all payments for a fortnight until further notice.
Such moves were now being felt at farm level, said NFU dairy board chairman Michael Oakes. The market was "changing very quickly in a negative way", he added, while a number of farmers supplying affected processors had been forced to pour excess milk down the drain this week.
With spot prices reportedly falling below 10ppl and the spring flush fast approaching, the government needed to act now with an intervention package, said Dairy UK CEO Judith Bryans.
"The sector has faced significant demand-led disruption over the past three weeks," she said, with foodservice dairy stocks ending up without a market and limited capacity to process the excess milk into longer-life dairy ingredients.
An already sharp increase in ingredient production globally was also weighing down on prices, Bryans added, with demand "unlikely to recover in the short term".
As a result, farmers would increasingly be asked "to dispose of milk that cannot be collected or designated for a processing facility", she suggested, as she called on Defra and the devolved administrations to intervene "by opening the door to measures that would support farmers".
These would include the government working with banks to support farms, direct compensation for farmers disposing of milk and those suffering from price cuts and other market support measures such as the private storage aid previously deployed by the EU.
The Royal Association of British Dairy Farmers echoed Dairy UK's call, with proposals outlined today (7 April) calling for the reimbursement up to the cost of production of up to 300 affected dairy farmers (representing about one million litres of milk production per day) to be paid directly to farmers.
Meanwhile, a new discussion document, also published today by agricultural consultancy Kite, suggested one way of stabilising the current crisis would be to impose immediate "collection constraints" where affected processors would immediately introduce a forced scaleback of deliveries.
This could be achieved, for example, by reducing the amount of milk they would pay for by 3% to 5% compared with last year's collections. This would reduce the amount of low or zero value "B litres" on the market, which was known to be undermining existing premium markets, said paper authors John Allen and Chris Walkland.
The Kite document also suggested the government could bring forwards a so-called "voluntary outgoers scheme" that could offer farmers a one-off optional lump sum payment in place of direct payments that could be used to contribute to their retirement or move to another sector.
Such a scheme had been suggested in a Defra policy paper in February and should be considered now in order to reduce pressure on both dairy farmers and processors, suggested Walkland. It could also remove "several million litres of milk from the market immediately, and effectively lend support to the rest of the industry", he added.
In response, A Defra spokesman said the government was in "frequent discussions with the dairy supply chain", which would continue "through this crucial period to understand what further support the sector needs".
He added: "We have taken a number of measures to support our food and farming sectors to manage the impact of coronavirus on the dairy supply chain. We are also working very closely with farmer and processor representatives to understand the specific challenges that the dairy sector is facing."