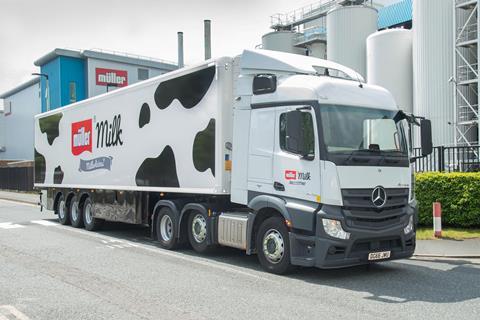 Müller Milk & Ingredients has announced it is going to "wind down" its operations at its Foston dairy, putting 223 jobs at risk.
In a statement, the dairy giant said the Derbyshire dairy was "likely to cease operations by the end of the year" and sought to reassure suppliers by saying only "a small number" would need to "discuss and consider future options for their milk".
The move follows a 45-day consultation process in which MMI reviewed its dairies network as part of its Project Darwin cost-cutting drive, which is meant to save the business £100m in the next two years.
While the dairy giant said the latest announcement had concluded the "current" review of its dairy network, it "would never rule out" the possibility of further closures.
It marks the latest development in the Project Darwin plan, launched in February after MMI CEO Patrick Müller warned the business was "not sustainable" in its current loss-making form. Müller UK & Ireland posted an operating loss of £132.9m for the year to 31 December 2017.
"We fully recognise that this decision will be devastating for our employees at Foston," Müller added. "But if we are to have any prospect of building a fresh milk business which is sustainable in the short and longer term, we need to make significant changes to reduce our costs.
"We must adapt quickly to meet the realities of a changing market. Inaction is not an option and would place at risk the future viability of fresh milk, long regarded as a staple of the nation's fridges."
The business would seek to "relocate" employees and aimed to "do everything" it possibly could to support those it could not offer roles to, Müller added.
The Union of Shop, Distributive and Allied Workers described the closure of Foston as "a devastating blow".
"Despite extensive interrogation of the company's business case by the trade union, we were sadly unable to persuade the company to maintain its operation in Foston," said Usdaw national officer Daniel Adams.
"The union, however, has continued to work tirelessly through the collective consultation process to secure as good a deal as possible for those at risk of redundancy," he added.
"Our reps and officials are continuing to provide support and advice to our members at this very difficult time."