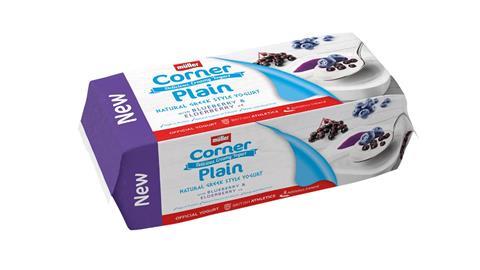 Müller has extended its reach into high-protein yoghurt containing less sugar with the launch of Müller Corner Plain and its first venture into quark.

Müller Corner Plain will replace the Greek Style Corner lineup launched in 2012, which is being discontinued. The new products also feature on average 27% less sugar than Greek Style, and represent the brand's latest example of sugar reduction, following its relaunch its Müller Light Fruitopolis range with 0% added sugar in January.

The range is available in strawberry & goji berry, blueberry & elderberry, and raspberry & pomegranate, in single units (rsp: 75p) or packs of four (rsp: £2.89). It went on sale in Asda yesterday (4 March), with wider distribution set for the coming weeks. Each SKU contains natural unsweetened Greek-style yoghurt with 16.1g-16.3g of sugar and 7.6g-7.7g of protein per 135g serving.

Müller planned to phase out its Greek Style Corner yoghurts over the coming months as retailers replaced them with the Plain range, it said.
The brand is also following in the footsteps of Arla and Graham's with the launch of two Alpine-style quark and yoghurt products. Müller Quark Yoghurt is available in strawberry, vanilla and plain flavours, and went on sale exclusively in Asda for 50p last week. The products contain between 8.3g-10.5g of protein per 150g pot.
Müller said it had reduced total sugar across its yoghurt range by 13.5% since 2015, equal to 1,759 tonnes.
"Through reformulation, new portion sizes and new products, all made possible by unprecedented investment in our capabilities, our products continue to offer moments of pleasure and no compromise on taste," said Bergen Merey, MD of Müller Yoghurt & Desserts.

"Müller Corner is a great example. It's strongly associated with 'together time' and consumers place a high premium on these moments. That's why Müller Corner remains a category and UK consumer favourite, accounting for four of the top five performing yoghurt SKUs."