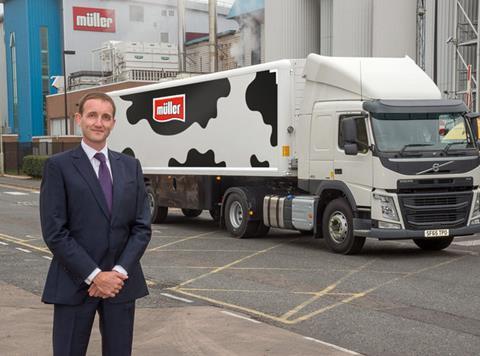 Müller's new UK dairy business could play a "major role" in revitalising the fresh milk sector, but the integration with Dairy Crest's operations might lead to rationalisation, boss Andrew McInnes has hinted.
The German dairy giant's acquisition of the loss-making Dairy Crest business was completed on 26 December. It brings Müller Wiseman Dairies and the liquid milk operations of Dairy Crest together to create new organisation Müller Milk & Ingredients - representing 25% of Britain's milk processing capacity and employing about 10,000 people across 13 sites.
McInnes, who has become MD of the enlarged business, said today (4 January) there was an opportunity to build "something special" in the UK dairy industry, with "real benefits" for customers, colleagues, farmers and suppliers.
However, he stressed it was important to recognise the status quo, particularly within the fresh milk sector, was not working, and suggested the enlarged group could be subject to restructuring in order to create efficiencies.
"We must therefore identify and make the changes and savings required to build a combined business that is sustainable, successful and vibrant," he added.
McInnes promised the company would listen to customers, farmers and suppliers to "validate and refine" its plans, but warned integration would have to happen "with pace" if the new business was to fulfil its potential and maintain a focus on serving customers.
"Our aim is to become a successful milk and ingredients business as quickly as possible," he said. "To do this we will prioritise the delivery of great products and service, building an engaged workforce, putting in place common systems and processes, and achieving higher levels of competitiveness through savings from combining the two businesses."
A spokesman for Müller said the Dairy Crest business was "largely complementary in terms of geography" but there would be "inevitable duplications and overlaps which we will seek to identify".
The company has given no specific details on where savings might be made, or a timescale on potential cuts.
Müller's acquisition of the Dairy Crest business finally received approval from the Competition and Markets Authority in October after Müller UK & Ireland offered additional undertakings to resolve competition concerns voiced by some retailers.
The actual price of the deal is believed to be significantly lower than the original £80m consideration announced by Dairy Crest and Müller in November 2014.
It includes a one-off £15m payment by Dairy Crest to the German processor to help meet the additional cost of the undertakings - which will see it supply and process up to 100 million litres of fresh milk a year to Medina Dairy at the newly acquired Severnside facility in Gloucestershire.
The deal will also see the Müller Dairy yoghurt and chilled desserts business rebranded as Müller Yogurt & Desserts, while dairy producer organisation Dairy Crest Direct has been split in two, with the new Direct Milk DPO representing the 660 farmers supplying milk to Müller.