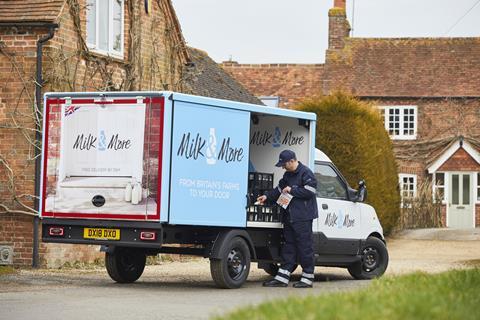 Müller's Milk & More doorstep delivery service is in growth for the first time ever on the back of a surge in interest in milk sold in glass bottles.

The once heavily loss-making service, which faced an uncertain future when Müller acquired it from Dairy Crest in 2014, had attracted 75,000 new online customers this year, said deputy CEO Andrew Kendall, with 90% of those buying milk in glass bottles.

Some 20,000 people had signed up to Milk & More in just one month during the second half of 2019, representing the biggest growth in sign-ups the service had ever seen, he added.

With Milk & More's total membership now exceeding 500,000 people, online sales were up 50% year on year, he told The Grocer.
The increase in membership was driving higher sales across a number of key categories, he added, with organic milk (value sales up 32% this year), fruit & veg (up 50%) and dairy alternatives (up 53%) performing particularly well.

Traditional milk float fare such as eggs, standard milk, bread and yoghurt are all in growth of about 8% to 10%, while shoppers are also lapping up more specialty products such as sourdough bread and pastries. Milk & More recently launched its first vegan meat alternatives, with a tofu, soy sausage and plant-based bubble and squeak by Dragonfly Foods on sale this month.

Its resurgence had also prompted a recruitment drive for an extra 50 milkmen and women, while another 100 were already in training, Kendall said.

This year's performance would be used as a springboard for further growth, he stressed.

"We know it's 40 years since this type of business was in growth, before it was even owned by Dairy Crest, and we have people here that have never seen that. This is an exciting time for the business."