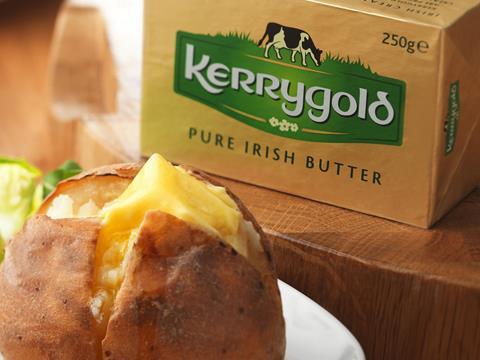 Ornua Foods UK has returned to profitability after posting a £7.1m pre-tax profit last year on the back of a surge in value sales.

Total revenue hit £319m in the year to 30 December 2017, the dairy co-op reported, up 11.6% from £286m in 2016. Sales volumes remained "stable".

Its increased revenues reflected "significant market price inflation", with butter prices particularly volatile during the past year, Ornua said.

Profit rose on the back of growth from the Kerrygold and Pilgrims Choice brands, alongside ongoing cost control and efficiency measures in preparation for Brexit.

The Irish-owned dairy giant last turned a profit in 2014 when it was still known as Adams Foods. It lost £8m and £1m in 2015 and 2016 respectively.

In the supplier's annual report and accounts, Ornua's directors hailed the return to profitability in an "ultra-competitive" and "volatile" marketplace. They set out its strategy to make NPD a priority, while monitoring shifts in the market and maintaining frequent engagement with suppliers.

The company also invested in energy reduction projects in 2017, in addition to further investment in its cheese packing technology and IT systems.

Improvements in financial performance reflected Ornua's increased focus on quality and developing innovative ways of working with retail customers it supplies with branded and own label SKUs, said managing director Bill Hunter.

"We believe the ongoing investment planned for the current and future years in both our state-of-the-art packing facility in Leek and our Pilgrims Choice and Kerrygold brands will continue to give the company a competitive advantage in the marketplace," he said.

It comes as the Ornua global business recorded a 25% increase in EBITDA during the same period, after achieving record sales for Kerrygold in the US and Germany. Revenue broke €2bn, while pre-tax profits soared 82% to €29.1m in a year that saw it acquire cheese ingredients business FJ Need.