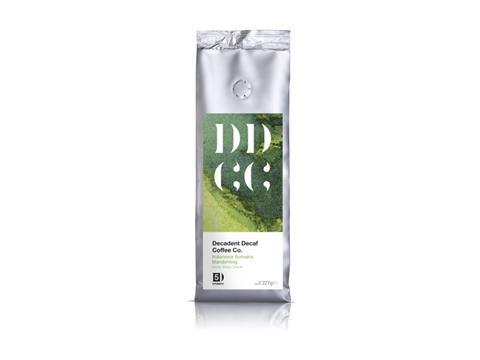 Suppliers are looking to revive the declining and "commoditised" decaf coffee market with artisan products.

Many mainstream brands already sell decaf, but analysts said there was an opportunity to grow the category as younger consumers were becoming more concerned about caffeine consumption. Decaf currently accounts for 7% of the total value of coffee market but value sales are falling - by 5.7% in the case of decaf instant [KantarWorldpanel].

Importer Blue Moun­tain Coffee is one of the businesses looking to tap into the decaf opportunity, and has rolled out a five-strong range under new brand The Decadent Decaf Coffee Company.

Launched at the London Coffee Festival last month, it comprises a Signature Espresso Blend and single-origin ground coffees Indonesia Sumatra Mandheling, Costa Rica Strictly Hard Bean (rsp: £6.99), Ethiopia Sidamo and Kenya AA (rsp: £7.99).

Decaf had become commoditised in the UK, claimed Decaf Coffee Co founder Guy Wilmot, adding that improved non-chemical decaffeination technology meant it was now possible to retain more than 95% of the flavour of the bean.

UK retailers and brands were lagging behind the US, he added, and no-one was "banging the drum" for decaf.

Other producers looking to grow the category are Raw Bean, which supplies Waitrose and plans to launch a second single-origin decaf after a "massive rise in sales". Union Coffee, which is stocked by Ocado, said it had also seen demand for premium decaf rise.