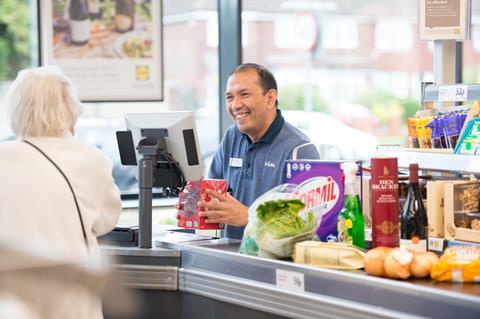 Aldi and Lidl took £542m in sales from the big four in the past 12 months, up 7.5% from £504m in the year to September.
The two discounters took £109m from Morrisons, £117m from Sainsbury's, £123m from Asda and £193m from Tesco, according to Barclays analysis of Kantar grocery market share data.
Tesco's losses, which represent the fall in sales arising directly from a gain for the discounters, are the largest by any retailer over all time periods, according to Barclays.
In the 12 weeks to 26 January alone, Aldi and Lidl took £28m from Morrisons, £35m from Sainsbury's, £36m from Asda and £44m from Tesco.
Meanwhile, M&S's performance was particularly encouraging, making gains in the latest 12-week period from every other major grocery retailer except Iceland, Lidl, Aldi and variety discounters.
It was M&S's first 12-week net gain in spend switched from rivals since June 2018, and contrasts starkly with a year ago, when it was "suffering switching losses to almost everybody", Barclays said.
M&S was also succeeding in extracting more spend from existing shoppers, a plank of M&S's Food MD Stuart Machin's transformation plans ahead of the range's arrival on Ocado in September. It helped the retailer achieve 2.6% sales growth over the period.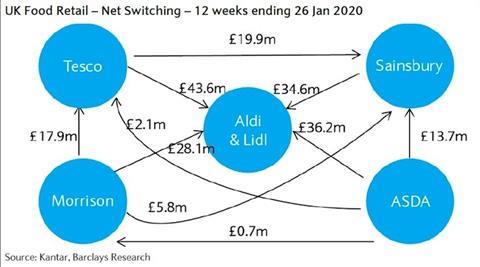 Morrisons made its most significant net switching losses since October 2016, at £75m. It was driven primarily by deepening losses to Tesco and Sainsbury's, modestly offset by gains from Asda and Waitrose.
Asda suffered its biggest net switching losses since August 2017 and its first to Morrisons in two years. The 12-week period was also the first time Asda made switching losses to each of its big four rivals since 2017. Morrisons took £700,000, Tesco £2m and Sainsbury's £14m.
The variety discounters, such as B&M, Home Bargains, Poundland and Poundstretcher, had made switching gains from almost all the other retailers except the discounters as they increased space for grocery.
"Of course, bargain stores are collectively adding a good deal of new space [to grocery] and this will be driving switching gains to some degree," the report said.