Aldi and Lidl made serious inroads into the UK market during the financial crash in 2008. Now, as inflation bites, they're on the march again
When the financial crash struck in 2008, Aldi and Lidl had been in Britain for over a decade and were still struggling to make a mark. Their combined market share was less than 4%, with the Financial Times noting that Aldi in particular had made "little impact in Britain" because shoppers here were not as price-sensitive in their grocery shopping as Americans or Europeans.
If true at the time, such an assessment certainly fell apart in the years to come as a collapsing economy and mounting inflation pushed Brits to flock to the discounters in their millions, accepting the more limited range in search of lower prices.
By the time inflation finally stabilised in 2014, Aldi sales were surging 32% year on year, Lidl's were soaring 20% and their combined pull accounted for almost £1 of every £10 spent in British grocers.
Today, with inflation at a 40-year high, Aldi and Lidl are on the march once again. Both discounters grew sales by 6% in the 12 weeks to 15 May. That was in stark contrast to the wider market, which saw overall sales decline 4%. It means both discounters are enjoying a record high in market share: Aldi at 9%, Lidl at 7%.
And Ronny Gottschlich, Lidl's UK CEO from 2010 to 2016, believes inflation is only one reason behind the growth of the discounters. He believes "the only thing that helped the big four in the last two or three years was coronavirus". Today's dynamic represents "a return to normal, in terms of [Lidl and Aldi] eating up market share of the big four".
So as the discounters lay out ever more ambitious expansion plans, there is a growing consensus they will eat further into the market share of Tesco, Sainsbury's, Asda and Morrisons. The question is whether today's economic turmoil will have the same transformative impact on their empire as the recession of 2008.
Perhaps the most obvious advancement Aldi and Lidl have made in recent years is their geographical expansion across the UK. Aldi now has about 960 stores, up from 470 in 2012, while Lidl has grown to around 920. Both Aldi and Lidl are still striving to open a store per week as they race with each other for new catchment areas to meet their 2025 estate targets, of 1,200 sites and 1,100 sites respectively.
While the rate of growth may be slowing, their ongoing expansion will mean Aldi and Lidl "will continue to grind out market share", says HSBC retail analyst Andrew Porteous, since expansion is the source the of "the vast majority of their growth".
Still, it's not coming easy. Not only are Aldi and Lidl having to find additional warehouse space to serve their growing estates, but they are struggling to avoid overlapƒ. Plus, it is placing a sizeable burden on their workforce at a time of nationwide labour shortages. In March, Aldi said it had 8,000 roles to fill and Lidl over 3,000 when they contacted the government to talk about giving jobs to Ukrainian refugees.
However, Gottschlich points out the discounters offer the highest basic hourly supermarket pay rate (£10.10 each nationwide), which makes them well equipped to weather a labour shortage.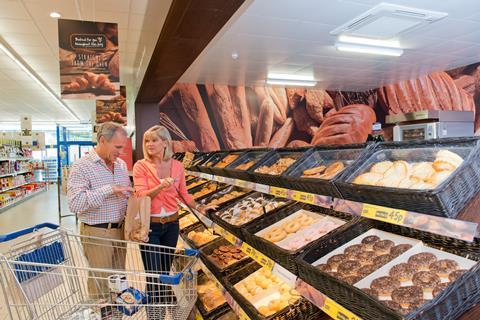 They are largely able to offer this level of pay because Aldi and Lidl operate a far more efficient workforce, he says, so "for every person at a discounter, the other guys have maybe one-and-a-half or two."
As a result of these higher wages, Gottschlich predicts we "will see a shift of workforce from the big four into the discounters".
LADs and LASses
Aldi and Lidl are not only expanding their number of stores, though. Since the last recession, they've also been busy building their ranges.
When they arrived in the UK, Aldi and Lidl were LADs, says Shore Capital analyst Clive Black – or 'limited assortment discounters', which only stocked around 600 basic items. In the years since, the SKU count has grown to around 1,800 in Aldi and 2,300 in Lidl. As a result, Black says, they are now LASses, or 'limited assortment supermarkets'.
They now have a much bigger assortment of fresh produce and chilled protein, Black points out, as well as a "notable premium private label – Deluxe in the case of Lidl, Specially Selected in the case of Aldi".
"They've evolved in a very British way, into a mainstream shopping proposition, where one can do a much bigger proportion of the shop, whereas before, certainly for fresh food, people would have gone elsewhere."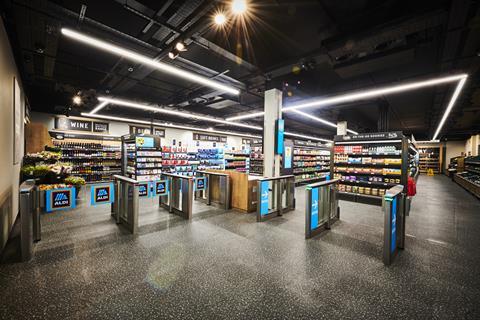 Even the lack of promotional activity could work to Aldi and Lidl's advantage, Black argues, as a ban on HFSS promotions remains on the cards for the future.
"You're probably looking at 5%-10% promotional participation versus 20%-25% for the mainstream guys," he says. "And when you look at HFSS products, a lot of them are branded and a lot of them will have been subject to promotion participation. In that respect, the discounters will be materially less encumbered by HFSS regulations."
All of which means "the competitive factor from a customer proposition point of view is even stronger now than 10 to 12 years ago", says Gottschlich.
That expanded range has come at a price, though. "The one thing you have to say is with more SKUs in the assortment, the efficiency advantage they would have over the big four isn't quite as it was," he says.
And even with that growth in range, the discounters still offer a limited choice compared to the major mults, whose ranges typically number in the tens of thousands. "The discounters don't have the brands, the assortment," says Black. In most shoppers' baskets "there is bound to be five or six items they feel they can't find in Lidl or Aldi", says David Sables, CEO of Sentinel Management Consultants.
Not that it has hampered their image. In 2008, there was a "stigma around being seen in the car park of an Aldi", says Sables. "There was a resistance to going to those stores." But now, through their evolution, their range expansion, and improved quality, the discounters have become accepted. "What's happened isn't about geographies and locations," Sables adds,"it's about loyalty to a new discounter format".
"People now brag about drinking Aldi champagne. That's totally different to how it was in 2008."
Sables believes the discounters' breakthrough came "about four years ago, when their market share held for the first time over Christmas". Before that it had always dropped away, because "people didn't really want discounter own label when guests were coming round".
"That was the tipping point," says Sables. "They had the trust." That turnaround is borne out in the figures. In 2012, 19% of households shopped with Aldi, according to Kantar. Today, that stands at 38%.
Price differential
Of course, price remains a major part of the discounter proposition. "I've always said it's very basic maths," says Paul Foley, Aldi's UK & Ireland CEO from 1999 to 2009. "If the price gap is large enough, people will gravitate toward the discounter."
The major supermarkets are more aware of this than ever in today's inflationary environment – and are fighting back hard. Tesco is cutting Clubcard prices on hundreds of items. Meanwhile, its Aldi Price Match campaign took a twist in February when Aldi bumped prices on some of its 650 'matched' items to make them briefly more expensive than Tesco (although Tesco has recently pulled own-label products out of the Aldi campaign as it raises prices).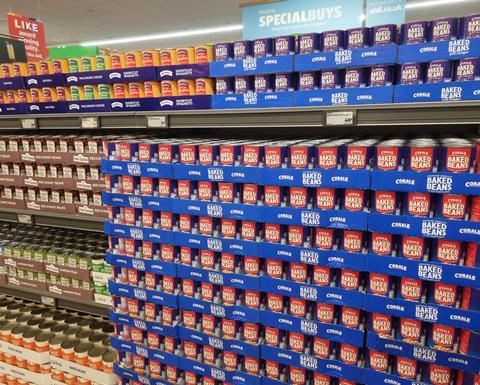 Sainsbury's is similarly matching Aldi on 150 lines, seemingly focused on high-volume products that constitute core basket components for many shoppers.
The major supermarkets are now in a stronger price position with "better management, less complacency, a real structural change in pricing strategy" meaning the gap has narrowed significantly on many common basket components, Black argues. "I can remember, in 2010, an iceberg lettuce was £1 at Tesco and 49p at Aldi," Black says. "Today they are same price."
Still, the overall price differential remains – even if it is smaller. In Aldi's first guest appearance in the Grocer 33 in 2014, it was 16% cheaper than the lowest-priced of the big four. In its latest appearance in March 2022, the margin remained high at 13%. Lidl, meanwhile, was 15% cheaper than the cheapest of the big four in 2014. In March, it was still 11.8% cheaper.
Indeed, not only does the differential still exist and remain significant, it's a less convoluted value proposition than price match or Clubcard, argues Gottschlich. "The use of Clubcard data [to tailor offers] is definitely something, but from a customer point of view it's just making things more difficult. You're collecting points, whereas in a discounter you just get the saving straight away, there and then."
Supplier relations
At the same time, both Lidl and Aldi are now working hard to convey a message of British provenance. Walk around the stores, for example, and you typically won't search hard for a British flag. Aldi is even set to get its message on to TV screens later this year as its competition to find new British suppliers becomes a six-part Channel 4 reality show.
"The way their marketing goes, they're more British than the Brits," reckons Sables. That's backed up by ranging. According to Lidl, two thirds of its products come from British suppliers, while Aldi CEO Giles Hurley said over 75% of what it sells comes from British suppliers when announcing annual results last year.
This British predominance, alongside smaller assortment, gives Aldi a "unique competitive advantage" over the mults, Hurley says, enabling it to better maintain availability levels amid supply chain challenges. "We simply have fewer products to supervise, to control, to manage," he said.
Not everyone is convinced of this argument. "Their supply chain is narrower, so if you have a problem in one factory it's a much bigger percentage of the total category or total product offer," says Foley, Aldi's former CEO. "So actually, I think it's not realistic to say that."
For Retail Mind founder Ged Futter, the strong availability at the discounters simply stems from close attention to detail, in the knowledge the limited assortment makes it all the more important. "Aldi in particular are obsessed about availability, more than any other retailer," he says.
And despite the British rhetoric, a supply chain advantage actually lies in Lidl and Aldi's "strong foothold in Europe", says Gottschlich. "The UK is just one of many. When none of the big four have anything in Continental Europe, or just remainders of some kind."
Another potential advantage lies in the fact Aldi and Lidl have "always had better supplier relations" than the mults, says Foley. "When 75% or in Aldi's case 85% of your products come from a few private label suppliers, they are really partners.
"They are not on the opposite side of a negotiating table. These guys preach that from the day you join, and that's a totally different approach to how you run a supermarket."
Futter says: "There's a reason why Aldi has been top of the GSCOP survey more than anyone."
All of which seems to suggest Aldi and Lidl can repeat their performance from the previous financial crash and continue the march of their expanding empires.
Yet their recent success could, somewhat ironically, prevent a repeat of that transformative change. Foley suggests the discounters will struggle to deliver quite the same shock to the mults this time round. "When a discounter starts out, it is begging for product because nobody wants to supply it," he says. "Not even private label players because it's going to take profitability from the market."
Only later does it "begin to get volume, build stores, build up its business model and finally get to a point where it can say 'I'm Aldi or Lidl'. And that pretty much happened in 2008. It was kind of luck… luck for me who was CEO at the time. It coincided with the maturity of their offer, especially in terms of private label."
Mature businesses
But that's not the case now, Foley continues. "The business has been mature for many years, the product offer of course is always advancing a little bit but not in the way it did between 2005 and 2009."
In 2008, Aldi and Lidl's proposition was new to a huge proportion of the public, he adds. The idea of offering limited ranges in exchange for the lowest available prices was novel. "Their opportunity to be something completely new for the consumer – which happened in 2008 – is not there any more."
Their existing popularity means more customers are doing more shopping with them and therefore, stores are busier and nearing capacity. "They are now busier per square metre than any other supermarket in the UK. And for that to get much busier is difficult as it starts to get uncomfortable for the customer."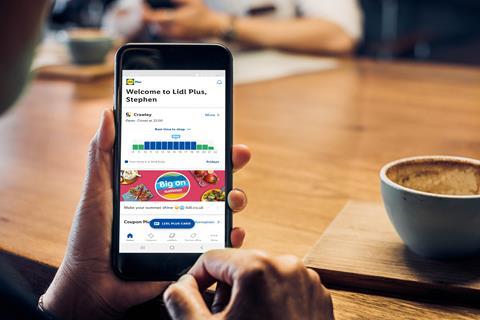 Foley also believes the big four "have learnt much better how to cope with them. Their costs are lower, their prices are lower."
Black says the same: "Better management, less complacency and structural changes in pricing strategy mean the big four are in a better place to compete."
He also maintains the discounters are simply not for everyone. "At the end of the day, most people in the UK have access to a German discounter and most people don't shop there," he says. "That reflects an amalgam of things. They don't have the wide choice, they don't do online [aside from Aldi's click & offer] and they don't sell fuel."
For Gottschlich, online is an important way the mults can differentiate themselves and "keep the shopper in your universe". Neither Aldi nor Lidl offer a full online delivery service – an absence many believe held them back through the course of the pandemic, when shoppers were often looking to avoid visiting stores.
Even so, with a combined market share of 15.9% in latest Kantar data, it seems more than possible that Aldi and Lidl could be moving rapidly towards 20% within just a few years.
Which means, at the very least, the big four have good reason to keep looking over their shoulder.