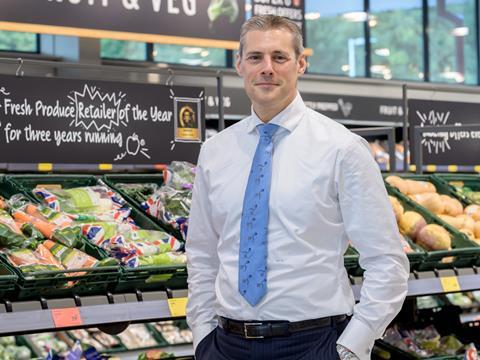 A surge in demand for its premium range has helped Aldi to a record Christmas as year-on-year UK sales shot up by more than 15% during December.
CEO Matthew Barnes said it was the Aldi's busiest-ever Christmas as shoppers switched from "more expensive" rivals to flock to the discounter.
The uplift has pushed Aldi's total sales in the UK and Ireland during 2017 beyond the £10bn barrier for the first time, the discounter said this morning.
Soaring demand for its premium Specially Selected products contributed to the Christmas boost as shoppers sought affordable luxuries over the festive period, with sales of the range increasing by more than 30% year-on-year over the month.
Top-selling products in the range included mince pies, sweetcured gammon joints topped with a gingerbread crumb, Aberdeen Angus beef roasting joints and Irish cream liqueur.
"This was our busiest-ever Christmas as millions of festive shoppers switched to Aldi from more expensive food retailers," CEO Matthew Barnes said.
"Although we saw strong growth across all categories, the performance of our premium Specially Selected range in particular surpassed all expectations.
"This is a clear sign that shoppers knew they could indulge in Christmas treats and festive essentials at Aldi for a fraction of the price they would pay elsewhere."
Aldi sold more than 6.8m bottles of wine, champagne and Prosecco during December – equivalent to over 200,000 bottles per day. It also sold more than four million mince pies and more than 100 million packs of veg, including parsnips, sprouts and carrots.
However, analysts at Bernstein argued the results were not as impressive as last year. They calculated that Aldi's like-for-like growth in December, having factored out new space and inflation, was 2.5%. This compares with 5% like-for-like a year earlier.
Following the bumper festive period, Aldi has also announced today that it will pay all store assistants a minimum hourly rate of £8.85 nationally and £10.20 in London from 1 February 2018, reaffirming its position as the UK's highest paying supermarket.
Aldi also pledged to match the Living Wage Foundation's recommended rates of £8.75 nationally and £10.20 in London for all of its employees from 1 February 2018.
Barnes added: "Our store colleagues are the cornerstone of our business. Without their hard work and dedication day in, day out, we would be unable to provide customers with the lowest grocery prices in the UK."
Bernstein analyst Bruno Monteyne said that wage rises and a more upmarket proposition would put more pressure on Aldi's margins.
"In the most recent annual report (for 2016) Aldi's FY margin fell by 90bps to +2.4%," he added. "In our view this was driven both by the competitive action of the other supermarkets and by Aldi's shift towards a higher cost and service model. This release contains further evidence that Aldi is generating growth by moving upmarket with growth driven by their premium Specially Selected products, which have increased 30% YoY. We expect that we will continue to see margin pressure when 2017's results are reported in October."
Aldi added 76 new stores to its store estate during the last 12 months, bringing store numbers to 762 as part of its long-term strategy to have a network of 1,000 stores across the UK by 2022.
"We see significant capacity for further growth as there are still more than 400 towns and cities across the UK without an Aldi store," Barnes said.
"Shoppers in these areas consistently tell us they would shop at Aldi if they could, and we are committed to meeting this demand for new Aldi stores."