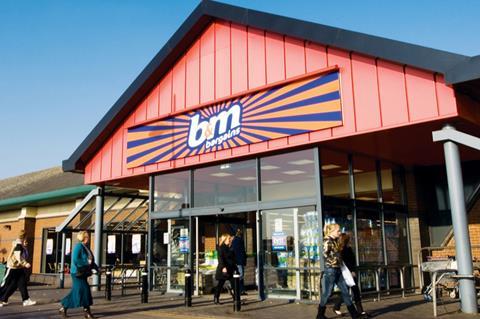 B&M Stores has dropped its appeal against the Competition & Markets Authority decision to place the retailer under the remit of Groceries Code Adjudicator Christine Tacon.

The Grocer revealed in February that the fast-growing discount store had gone to the Competition Appeal Tribunal (CAT) to contest the decision to add it to the list of "designated retailers" policed by Tacon.

Yesterday (Monday) the CAT issued a statement saying: 'On 25 April 2019 B&M applied for permission to withdraw its application for review.

'By an order dated 13 May 2019, the tribunal granted B&M permission to withdraw its application for review and made a direction as to costs.'

The decision was welcomed by the CMA.

"We have always maintained that it is only right for B&M to be subject to the Groceries Supply Code of Practice, which protects suppliers from unfair business practices and means retailers can trade with confidence on a level playing field," said a spokeswoman.

B&M had claimed the CMA had misinterpreted the Groceries Code in its decision to include it among the extended list, along with online retailer Ocado, in November.
Lawyers for the company had also claimed the CMA "failed to understand and consider the exercise of its discretionary power" and "failed to have regard to relevant considerations". The results of the decision were "disproportionate" they added at the time of the appeal.

B&M's now-abandoned appeal had heaped more controversy on to the CMA's expansion of the Adjudicator's remit, following criticism from suppliers after it failed to include online giant Amazon and Boots on the extended list.

This week's decision comes with more than 1,500 companies, including over 1,400 direct suppliers, having responded to Tacon's latest supplier survey, which is being compiled by yougov.

The results will be presented at the GCA annual conference, which will be held on 24 June in Westminster. Registration for the conference is at gov.uk/gca.