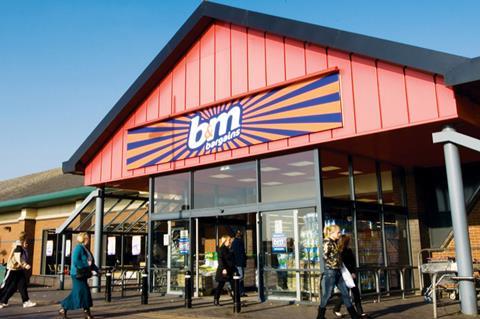 B&M Stores is taking the Competition & Markets Authority to court in a bid to escape coming under the remit of Groceries Code Adjudicator Christine Tacon, The Grocer can reveal.

The discount chain was added to the list of 'designated' retailers to be policed by Tacon, along with Ocado, in November. It went to a Competition Appeal Tribunal earlier this month to contest the decision.

The case will now go to a judicial review, with B&M claiming the CMA misinterpreted the Groceries Code in its decision to include it among the extended list.

Lawyers for the company also claim the CMA "failed to understand and consider the exercise of its discretionary power" and "failed to have regard to relevant considerations". The results of the decision were "disproportionate" they added.

When it added B&M to the list in November, Peter Hill, head of remedies enforcement at the CMA, said:

"These rules mean that suppliers are protected from unfair business practices, and retailers can trade with confidence on a level playing field.

"Businesses supplying Ocado and B&M will now also benefit from this protection."

But the court battle brings fresh controversy to the CMA's expansion of the Adjudicator's remit, following criticism from suppliers after it failed to include online giant Amazon and retailer Alliance Boots on the extended list,

B&M will continue to be policed by Tacon pending the outcome of the legal challenge.

B&M declined to comment.

The CMA's legal bust-up with B&M comes as the Adjudicator this week launched her latest annual survey of suppliers, which will include Ocado and B&M in its league table.

"The annual survey plays a huge role in my work," Tacon said. "It sheds strong light on the behaviour of the retailers and tells me how well they are complying with the Code. I use the information I receive to help identify top issues and to decide where to focus my discussions with the businesses I regulate.

"Thanks to the large numbers of suppliers who have taken part in previous years I have been able to delve deeper into specific issues, identifying particular challenges for individual retailers to work on.

"I need all sectors and sizes of groceries suppliers to complete my survey, so please take the time to fill it in, and I welcome a cross-section of views from within suppliers. I am hoping, as in past years, to receive more than 1,000 replies from suppliers."

The survey is run by independent polling company YouGov and can be completed at yougov.com/gca.

The results will be present at the GCA annual conference, which will be held on 24 June in Westminster. Registration for the conference is now open at gov.uk/gca.