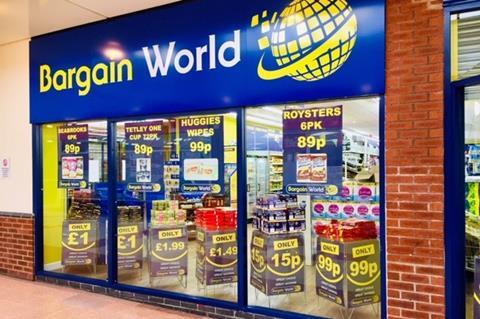 A new variety discounter has opened the first of 25 stores planned between now and October.

Bargain World sells at multiple price points up to £15, with fmcg making up around 60% of the store's 3,500 products.

The first store opened in a 4,000 sq ft former Poundworld branch in Cockhedge Shopping Park in Warrington, Cheshire, on Saturday (11 May).

The multi-price model allows Bargain World to offer products from as little as 15p and undercut pound shops marginally with well-known brands at 99p, according to retail and operations director Terry Meekings.

Bargain World also sells in bulk, including 18 Sofcell toilet rolls at £3.49. The 40% of the range that is general merchandise includes bedding at £14.99.

A second store, also in a former Poundworld site, in Birchwood, Warrington, is set to open in about three weeks' time.
Leases had been secured on six more stores, including four former Poundworlds and two former Maplins', and around 15 more were being negotiated, Meekings said. All the stores were between 3,000 and 5000 sq ft.

Meekings, a former regional manager at Poundstretcher, Poundworld and Poundland, told The Grocer: "The pound retail market is pretty much finished. You cannot just operate as a single-price retailer.

"Either you've got to buy clearance stock, where you can get a great margin, or your range becomes multi-price, exactly like B&M started out and they're doing very well."

Meekings said the store had been well received by the public so far. "We were very, very happy with the figures over the weekend and yesterday."

He said it had been a "soft launch" with no marketing. "We just opened the doors because we wanted to make sure we could iron out any problems.

"This weekend will be what we'll call the store's grand opening, with a £10 goody bag for the first 100 customers."