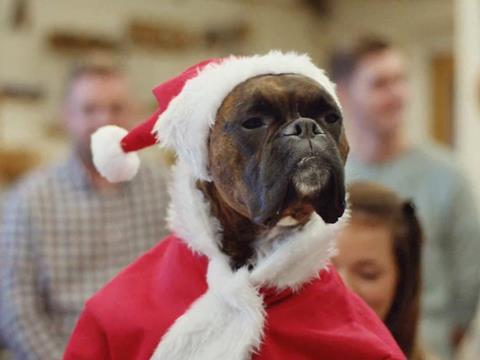 As many as 12.5% of shoppers carried out their main Christmas shopping trip at a discounter according to the latest figures from Kantar.
Lidl enjoyed the biggest year-on-year sales gains - up 18%, followed by Aldi, which saw sales up 13.3% in the 12 weeks to 3 January.

Fraser McKevitt, head of retail and consumer insight at Kantar Worldpanel, said the discounters were continuing to establish themselves in the minds of British consumers.

"Almost one in eight did their single biggest December shopping trip in Aldi or Lidl, on top of the 15.6 million households who visited at some point in the 12 weeks. That is an increase of nearly one million shoppers on last year, and their combined share is up from 8.3% last year to 9.7%," McKevitt said.

Lidl benefited from an expanded product range, especially in Deluxe premium, with average basket sizes up 7% to £17.20.

"I'm particularly proud, in this highly competitive time, that we are the fastest growing British grocery retailer and it goes to show that our 'best quality for the best price offering' is enormously valued by the British customer," said Lidl UK chief executive Ronny Gottschlich.

"This sales growth is higher than what we achieved last year and continues to build on our strong performance throughout 2015. It's very encouraging for us and is testament to the hard work of all our employees who continue to make everything possible."

Jonathan Neale, joint managing director, buying, at Aldi, said: "This has been our busiest Christmas ever as we welcomed hundreds of thousands of new customers to our stores.

"During Christmas week our sales peaked on 23 December as we experienced our highest ever sales in a single day since Aldi came to the UK more than 25 years ago."

However, consumers were still spending most of their money in more traditional supermarkets, particularly in December, and total discounter share had dipped from the 10% achieved just before Christmas.

Waitrose, The Co-operative and Sainsbury's grew ahead of the market, increasing their sales by 1.4%, 0.8% and 1.5% respectively.

Iceland proved the biggest casualty, falling 4.1% over the period, with Asda following closely, down 3.5% and then Tesco by 2.7%.

Sainsbury's benefited from record Christmas sales for its Taste the Difference brand and from simple price cuts rather than complicated multibuy deals. Kantar Worldpanel said this helped attract an extra 114,000 shoppers.

Symbols and independents managed a respectable 0.2% sales increase.

McKevitt said shoppers reaped the benefit of falling prices this Christmas with groceries 1.8% cheaper than last year. Continuing price deflation meant the multiple grocers suffered a 0.2% year-on-year fall in sales.

"The amount spent on a typical Christmas dinner fell even faster - down 2.2% - mainly due to cheaper poultry and traditional vegetable trimmings. Alcohol sales increased thanks to a surge in popularity for sparkling wines including Champagne and Prosecco, which increased in value by 11%."

He added that Wednesday 23 December was the single biggest shopping day of the year, but the anticipated uplift from an extra day in the week before Christmas did not help the supermarkets overall. Consumers simply delayed their shopping trips later this year, rather than making any extra trips.