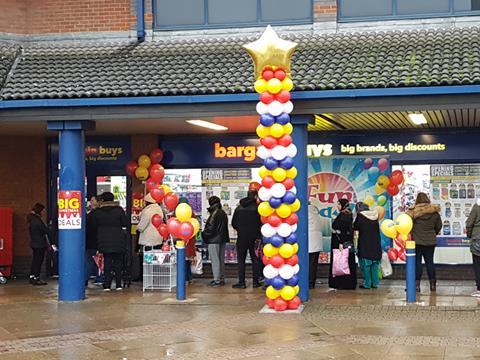 Poundstretcher aims over time to convert its entire store estate to the Bargain Buys fascia.

The company has been using the banner for all its new stores since September, despite disagreement over ownership of the brand. It was also the name of a string of stores in the defunct Poundworld estate, which a Leeds businessman bought from administrators and planned to bring back to the high street.

Poundstretcher has now begun converting existing stores to Bargain Buys, as well as opening more than 40 since the first in Paisley.

"All openings since Paisley have been Bargain Buys," Poundstretcher property director Gerry Loughran told The Grocer. "All refits too. Every refit from now will be Bargain Buys."

Stores to have been refitted included Banbury and Oldbury. Other stores were being replaced, including in Brighton, where a Bargain Buys had been opened in a former Poundworld site with plans to close the Poundstretcher on the other side of the street, relocating staff, Loughran said.
The process put the variety discounter on course to gradually renew the whole estate under the new name, he added.

"Looking at the estate profile, we've currently got 431 stores. Out of that there's probably 80 lease events a year. That's a lease renewal or expiry. So there's a chance for us to really look at the old estate. We have closed about 100 stores in the last four years but we've opened net more stores."

Poundstretcher has already revealed plans to rapidly grow its estate to 800 stores within two years while expanding its fmcg range. The chain has opened 57 new stores since April, creating 1,800 jobs including 1,000 for former Poundworld staff, according to Loughran.

Having acquired many former Poundworld stores already, sights were now set on properties previous occupied by The Original Factory Shop, which announced 32 closures in June.

"We're taking 15 The Original Factory Shops and potentially 20 in the new year," said Loughran.

The Grocer revealed in October how Manni Hussain, chairman of Leeds property company 88m Group, had bought both the Poundworld and Bargain Buys names from administrators Deloitte and planned to open 250 stores nationwide by the end of next year. A meeting between Hussain and Poundstretcher bosses last week is understood not to have ended in agreement.

Hussain has not responded to The Grocer's enquires.