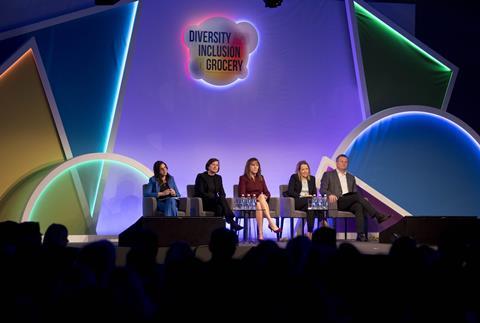 Tesco, P&G, Coca-Cola European Partners (CCEP), Accenture and Mondelez International are joining forces with GroceryAid for the 'Diversity and Inclusion in Grocery' conference next month.
Now in its' second year the event, to be held at Wembley Stadium on 12 March, will host around 800 people from 150 companies to discuss topics including gender equality, disability, LGBTQ+ and cultural inclusion, flexible working, mental well-being, unconscious bias and mentoring.
Former Arsenal captain Alex Scott, Tesco chief operating officer Tony Hoggett, and Leendert Den Hollander, vice president and general manager at CCEP join a strong line-up of speakers.
The event's organisers hope attendees to learn from each other and inspire change, to create a "successful and inclusive environment where everyone feels welcome and can thrive".
Tesco chief customer officer Alessandra Bellini said: "The outstanding feedback we received from last years' event proved there is appetite to learn from each other how we can collectively make the grocery and consumer goods industry a more welcoming and inclusive place to work.
"We know that when people feel able to bring their whole selves to work it has a huge impact on their wellbeing, productivity and ultimately their businesses. I am looking forward to sharing the day with allies from across the industry as we engage in open and authentic dialogue that helps move us further to our goals"
Louise Stigant, managing director at Mondeléz International added: "I am a passionate believer that when someone is in an environment where they feel they belong, they can focus their energy on being their best and unlock a sense of possibilities they may not have even dreamt of. By collectively standing together as an industry to promote diversity and inclusion, we are opening up opportunities for everyone to succeed.
"The conference last year was the beginning of our journey and I am excited to take the next step, with the event this year welcoming more companies and individuals with a passion to learn and share experiences, so that we can collectively achieve our goals".
Standard tickets cost £180 and can be booked here. All proceeds raised from the event go to GroceryAid.