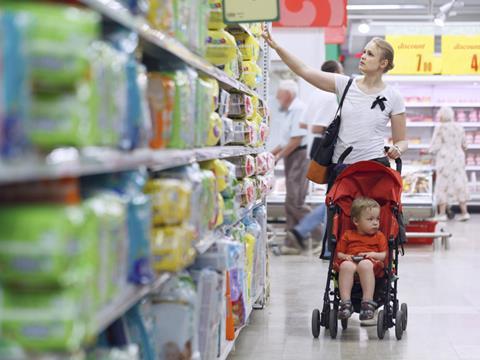 Top story
GfK's consumer confidence index remained in negative territory last month as the public worried about the UK's economic prospects even before the vote to leave the EU.
The index remained the same in June at -1 on interviews before the EU referendum, but views over the general economic prospects for the UK over the next 12 months decreased by one point to -14 in June. This measure is now 18 points lower than June 2015.
Joe Staton, Head of Market Dynamics at GfK, says: "One trend that continued in the run up to the referendum is a deepening pessimism over the general economic situation. As we approached voting day, this was already 18 points lower than in June 2015 and it's almost certain we'll see this worsening when next month's results are in.
"Before the referendum there was an uptick in confidence about personal finances, and as of mid-June this measure was more positive than 12 months ago. But once again it is difficult to see this holding up.
"In these extraordinary consumer circumstances, all bets are off until we all know more. We can expect plenty of volatility in consumer confidence at least until Brexit negotiations are underway. The longer term mood will then depend on how smoothly those negotiations go."
The forecast for personal finances over the next 12 months increased by one point this month to +8; this is three points higher than this time last year.
Morning update
A quieter morning on the markets sees no grocery company updates of note.
The market roller-coaster is back heading down this morning, though a relatively small drop in the FTSE 100 of 0.6% to 6,322.2pts still represents a semblance of stability after recent volatility.
Hilton Food Group has leapt 4.4% in early trading to 551p and McColl's Retail Group (MCLS) is up 6% to 137.8p.
But there are signficant fallers this morning, including Ocado (OCDO), down 2.4% to 216.7p, Sainsbury's (SBRY), down 1.7% to 225.9p, Greene King (GNK) after yesterday's rise, down 1.1% to 781p and Coca-Cola HBC (CCH), down 1% to 1,468p.
Yesterday in the City
The early Brexit-induced panic in the City is beginning to subside, with the second consecutive day of positive trading in the markets yesterday.
The FTSE 100 was back up 3.6% to 6,360pts, wiping out the catastrophic losses of Friday and Monday following the UK's vote to leave the EU. The FTSE 250 was also 3.2% up to 16,002.9pts, but the mid-cap index remains 7.6% lower than its pre-referendum level as concerns persist over trading conditions for UK-centric companies.
There were rises pretty much across the board yesterday, with Tesco (TSCO) one of the most notable movers rising 6.4% to 170.7p. Other retailers also had better days, with Marks & Spencer (MKS) up 5% to 316.4p, Primark owner Associated British Foods (ABF), up 4.3% to 2665p, Booker (BOK) up 3.5% to 173.7p and Sainsbury's (SBRY) up 3.5% to 229.8p.
Other strong risers include Fever-tree (FEVR), up 7.8% to 708.5p, Compass Group (CPG) up 3.7% to 1,412p and Imperial Brands (IMB), up 3.5% to 3,908p.
Among yesterday's few fallers was Ocado (OCDO), down 1.8% to 222p after admitting on Tuesday an international deal was still some time away from being signed. Also falling were Britvic (BVIC), down 0.9% to 584p and McColl's (MCLS), down 3.9% to 130p.
Greene King (GNK), which announced a rise in full year revenues of 58% to £2.1bn yesterday, was up 4% to 789.5p.