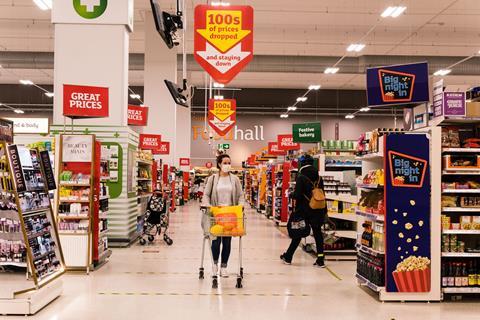 Top story
Grocery price inflation has edged back downwards for the second consecutive month, according to the latest market share data from Kantar.
Like-for-like grocery price inflation now sits at 17.2% for the four weeks to 14 May 2023, down 0.1 percentage points on last month's figure and continuing its slow easing from the record 17.5% recorded in March.
Total take-home grocery sales rose by 10.8% over the month year on year, as sales volumes continue to contract amid significant inflation.
On an individual retailer basis, Asda was once more the fastest growing of the mults, with sales up 10.6%, followed by Sainsbury's at 10.5% and Tesco at 8.9%. Morrisons remains in marginally positive territory, with sales up 0.6% for the period.
Aldi and Lidl were up 24% and 23.2% respectively.
Meanwhile, Waitrose benefited from a substantial uplift in the week of the coronation, with sales up by 4.8% over the 12 weeks, the highest rate of growth the retailer has achieved since April 2021.
Elsewhere Co-op was up 2.9%, Iceland 9.1% and Ocado 5.6%.
Fraser McKevitt, head of retail and consumer insight at Kantar, commented: "The drop in grocery price inflation is without doubt welcome news for shoppers but it is still incredibly high – 17.2% is the third-fastest rate of grocery inflation we've seen since 2008. This could add an extra £833 to the average household's annual grocery bill if consumers don't shop in different ways.
"Of course, shoppers are savvy and they're skirting higher prices by choosing more own-label goods. These lines grew by 15.2% this month, almost double that of branded products which rose by 8.3%. However, the gap between own label and brands is narrowing in most stores, helped in some cases by loyalty discounts."
For the 12 week period to 14 May, grocery inflation now stands at 17.1%, with prices rising fastest in markets such as eggs, milk and ambient cooking sauces.
Morning update
Meat supplier Cranswick has posted double-digit growth in the year to 25 March, but saw margins slashed amid soaring costs.
The pork and poultry supplier saw total revenue in the 52 weeks to 25 March 2023 grow 15.7% to £2.3bn.
Adjusting for the impact of acquisitions made in the previous and current financial years, revenues were up by 14.4% on a like-for-like basis.
It said whilst total volume growth in the year was only modest, prior year comparatives reflected pandemic-related elevated in-home consumption, and like-for-like volumes remain well ahead of pre-pandemic levels.
Total export sales increased year on year with stronger pricing offsetting lower volumes. Far East exports were modestly lower than the prior year, with higher prices to a large extent offset by lower demand, as China remained in strict lockdown for much of the year.
However, adjusted profit before tax for the period was up just 2.3% to £140.1m and operating profits up 4.2% to £146.5m.
Cranswick sad adjusted operating margin improved in the second half of the year, reflecting ongoing inflation recovery. But it said inflation recovery remained a "work in progress" and will remain a feature through 2024.
Cranswick said it had made a "positive" start to the current year, with a strong balance sheet and comfortable financial headroom to support its ongoing capital investment programme and ambitious growth plans.
CEO Adam Couch commented: "Over the last 12 months all at Cranswick have demonstrated resilience and determination in abundance, enabling us to deliver a strong set of results and make further meaningful progress in delivering our strategic objectives.
"We have successfully navigated three years of unprecedented disruption and uncertainty and we now have a much larger, more diverse, and better equipped business, which is primed to deliver the next phase of growth.
"We have made a positive start to the new financial year. The strengths of our business, which include our diverse and long-standing customer base, breadth and quality of products and channels, robust financial position and industry-leading infrastructure will support the further development of Cranswick over the longer term."
Also this morning, Hilton Food Group has posted a trading update for the period from 2 January 2023 to date ahead of its AGM later today.
The Tesco meat supplier said trading has been in line with board's expectations in the period, with sales ahead of the prior year, reflecting continued increases in raw materials prices and the positive effect of a full year of ownership of Foppen.
Revenue in UK and Ireland is ahead of last year though higher raw material prices continue to have an impact on volumes. The ongoing turnaround plan in the group's UK seafood business remains on track in terms of performance improvement and cost-saving targets.
In Europe, revenue is ahead of the previous year, as a result of the benefits from the acquisition of Foppen and particularly strong trading in its Scandinavian markets.
APAC has seen strong volume and revenue growth from its three facilities in Australia and its food park in New Zealand.
Despite the uncertain macro-economic environment, Hilton said the business is well positioned for the year ahead. The group's financial position continues to be strong with leverage and headroom at comfortable levels.
It stated: "Our short and medium-term growth prospects are underpinned by our recent acquisitions and the continued recovery of our UK seafood business, combined with opportunities to develop our cross-category business and utilise our wider supply chain management expertise.
"We also continue to explore growth opportunities and wider geographic expansion with existing and new customers."
On the markets this morning, the FTSE 100 is flat at 7,772.9pts.
Risers include Cranswick, up 4.5% to 3,281p, SSP Group, up 3.6% to 273.6p and THG, up 2.9% to 59.8p.
Fallers include Wynnstay, down 2.6% to 426.3p, Coca-Cola Europacific Partners, down 2.2% to €59.90 and B&M European Value Retail, down 2% to 480p.
Yesterday in the City
The FTSE 100 started the week up 0.2% to 7,770.9pts.
Risers included C&C Group, bouncing back 2.9% from Friday's losses to 134.8p, Ocado, up 2.4% to 403.4p, Deliveroo, up 2% to 110p, Hilton Food Group up 2% to 754p and THG, up 1.3% to 58.1p.
Fallers include Just Eat Takeaway.com down 6.4% to 1,383p, McBride down 3.8% to 30.5p, Bakkavor down 2.7% to 92.4p, Hotel Chocolat down 2.7% to 161p, Premier Foods down 2.1% to 128.8p and Nichols down 1.3% to 1,006.5p.