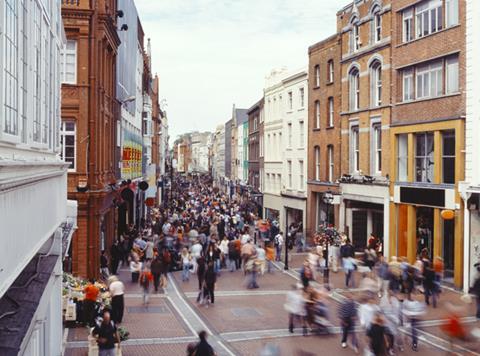 Top story
High street footfall dropped a further 2.1% in July, according to the latest figures from BRC/Springboard, leading to an overall 1.1% in retail footfall in the period.
The BRC/Springboard Retail Footfall and Vacancies Monitor for July showed an overall 1.1% fall in footfall against the previous year, which was well below the three month rolling average of -0.4% and the 12 month rolling average of -0.2%.
The high street (-2.1%) and shopping centres (-1.3%) drove the overall decline, whereas Retail Parks (1.7%) saw growth.
The East and South East were the only two regions that saw footfall growth in July, while the steepest decline in footfall in July occurred in the South West and Greater London, both showing a fall of -2.1%.
BRC chief executive Helen Dickinson said: "The overall decline in footfall translated into weak sales performance for stores in non-food particularly, which fell further into negative territory as consumers rein back spending on non-essential items.
"The vacancy rate, now at its highest for a year, fails to brighten the picture for what was evidently a challenging month for retailers. What's more, September's RPI which is expected to be in the region of four per cent, represents a substantial increase in business rates for retailers in April 2018. So Government's commitment to switch to CPI indexation should really be brought forward from 2020."
Diane Wehrle, Springboard marketing and insights director added: "July's results might well mark a sea change in consumers' willingness to spend, as it was the first time since January that footfall dropped during both retail trading hours and into the evening. A -0.5 per cent drop in footfall post 5pm in July is the first evidence of a tightening of purse strings on casual dining and leisure trips.
"Despite a drop in fashion sales, consumers increased their spending on products for the home and out of town locations are the beneficiaries. These results together with the high level of consumer borrowing and an increase in the vacancy rate to 9.6 per cent from 9.3 per cent in April – the highest it's been since July last year - suggest that trading conditions could be reaching a tipping point into a period of restraint."
Morning update
Tetley Tea owner and Indian drinks conglomerate Tata Global Beverages has posted its first quarter results for the three months to 30 June 2017.
It said revenue from operations at Rs1704 Crores (£204.6m) grew by 1% in underlying terms, with sales growth muted due to introduction of new taxation in India and phasing of promotions in developed markets.
Group profit before exceptional Items was up 9% to Rs218 crores, while group consolidated net profit was up 19% to Rs142 crores. The rise in profitablity was due to improved operating performance, higher exceptional income and lower losses from its joint ventures and associates.
TGB has decided to restructure its operating model in Russia by entering into an agreement to transfer ownership and operational responsibility of its Russian business unit to Skodnya Grand. TGB has also disposed its stake in its Chinese Joint Venture, Zhejiang Tata Tea Extraction Company Limited.
CEO Ajoy Misra said: "The Company recorded significant profit growth last quarter driven mainly by improved operating performance. Our joint ventures in India- Nourish Co and Tata Starbucks have also performed very well. We will continue to pursue aggressive growth through base business rejuvenation, innovation and category expansion. Health and wellness continues to be a key focus area for Tata Global Beverages and our recent innovations are built around this trend.
"We are also premiumizing our brands by creating enhanced beverage experiences for consumers through vitamin enhanced teas, indulgent and specially curated tea blends, flavored waters and coffees catering to varied consumer needs."
On the markets this morning, the FTSE 100 has opened the week up 0.4% to 7,339.2pts - retaking some of the ground it lost last week amid worries over mounting tensions between the US and North Korea.
Early risers include Crawshaw Group (CRAW), up 4.1% to 21.9p, Hotel Chocolat (HOTC), up 2.1% to 275.6p, Hilton Food Group (HFG), up 2% to 774p, Total Produce (TOT), up 1.2% to 199.9p and SSP Group (SSPG), up 1.1% to 531p.
Fallers include Stock Spirits (STCK), down 3.8% to 192.3p, PureCircle (PURE), down 3.6% to 372.8p and C&C Group (CCR), down 2.1% to €2.96.
This week in the City
In a quiet mid-summer week in the City the major event of note will be second quarter and first half results from US retail giant Walmart (WMT) on Thursday.
In the UK particular attention will be paid on Asda's sales figures, with the hope that mounting food price inflation will halt the supermarket's troubled run of like-for-like quarterly sales declines.
Elsewhere this week, under-fire Brazilian meat giant - and owner of Northern Irish poultry producer Moy Park - JBS is scheduled to release its fourth quarter results tomorrow. It will be joined by sector contemporary Marfrig, which has its own second quarter results on the same day.
Global brewer Carlsberg will issue an interim trading update on Wednesday.
On Thursday Treasury Wine Estates is scheduled to released its preliminary full-year results.
In economic news, the main date in the calendar is tomorrow morning with the release of the monthly inflation figures from the Office of National Statistics. Economists expect a small uptick in inflation last month, pencilling in a CPI rate of 2.7% compared to 2.6% in June.
The ONS monthly retail figures will also be out on Thursday.