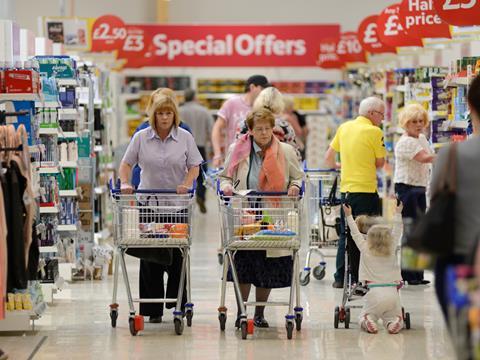 Top story
UK retail footfall fell by 2% year-on-year in October according to the BRC Springboard footfall and vacancies monitor – the largest rate of decline since the vote to leave the EU in June 2016.
The 2% footfall slump in the four weeks to 28 October is below the 3-month rolling average of -1.4% and the 12-month rolling average of -0.5%.
Both high streets and shopping centres saw footfall during retail trading hours drop by more than 3% and retail park footfall slipped into negative territory.
Shopping Centres saw a significant overall decline from -1.0% to -3.0%, Greater London being the only region to see positive growth (0.2%).
Overall, the sharpest decline in footfall in October occurred in Northern Ireland (-6.5%), Scotland (-3.3%) and South West (-3.1%). Footfall in Greater London declined to -1.3% from -0.9% in September.
BRC chief executive Helen Dickinson commented: "All shopping destinations saw shopper footfall ease back in October, which mirrors the month's paltry sales performance. Even retail parks, which have continually bucked the trend until now, struggled to attract as many visitors as the previous year.
"Without decisive action from the Chancellor in his upcoming Budget then retailers face a stark £270 million leap in their rates bill from April; money which could otherwise be invested in stores and digital innovation. If reports over recent days of a potential cap on this increase come true, it would be a hugely welcome first step towards a reformed and more financially sustainable rates system over the years ahead."
Diane Wehrle, Springboard marketing and insights director, added: "The signs of the gathering cloud have been evident in footfall trends for a while; with the rolling three month average dropping to -1.4%, the lowest since June last year. Both high streets and shopping centres are clearly under pressure, with footfall during retail trading hours dropping by more than -3% in each.
"And the fact that retail park footfall slipped into negative territory – even during daytime hours - whilst prior to November recording seven consecutive months of growth, is definitive evidence of consumers tightening their purse strings."
Also this morning, Visa has revealed spending decreased by 2% in October amid a 5% decline in spending on the high street.
Unseasonably warm October weather hit the sale of winter clothes, meaning clothing and footwear sales slumped by 9%, while food and drink spending fell 2% - the category's biggest fall since March 2014.
Mark Antipof, Visa's chief commercial officer, said: "The unseasonably warm weather did not help, but the clothing sector has been struggling to increase sales since the beginning of this year. This is reflected more broadly in high street performance, with spending falling for the sixth month in a row."
Morning update
Agriculture and engineering company CARR's Group has reported its annual results for the year to 2 September 2017, with a near-10% rise in sales accompanying a double-digit drop in profits.
Group revenues were up 9.9% to £346.2m, but EBITDA slumped 18.8% to £13.4m and underlying operating profit dropped 28.5% to £9.3m.
Agriculture operating profit before amortisation of intangible assets and non-recurring items (excluding contribution from associate and JVs) fell 17.2% to £8.6m, due to a weaker performance primarily during the first half in the USA
However, Carr's said USA Agriculture recovery commenced in the second half of the year and is expected to continue through the current financial year, while it also reported improved farmer confidence evident in the UK.
Agriculture revenue was up 10.9% to £315.9m due to increased sales volumes and higher raw material costs.
Chairman Chris Holmes said: "While 2017 was a challenging year, impacted by external market conditions, we made significant investment and progress towards achieving our strategic objectives.
"Trading in the new financial year has started well and remains in line with the board's expectations. We believe that the investments we have made in acquisitions and research across both our divisions have laid a solid foundation for sustained growth and remain confident in the outlook for the group."
On the markets this morning, the FTSE 100 has started the week on the front foot - up 0.3% to 7,453.6pts so far this morning.
Early risers include Unilever (ULVR), up 1.3% to 4,279.5p, McBride (MCB), up 3.2% to 233.3p, Real Good Food (RGD), up 4.2% to 25p and Nichols (NICL), up 1.3% to 1,754p.
After strong results and a share price rise last week, Coca-Cola HBC (CCH) has started the week dropping back 4.5% to 2,.469p. Other fallers include Applegreen (APGN), down 1.3% to 503.3p, Marston's (MARS), down 1.3% to 109.4p and Fever-Tree (FEVR), down 1.2% to 2,027p.
Carr's Group has fallen 1.4% to 144p on this morning's results.
This week in the City
The pace of results announcements eases a little this week after the flood of City updates over the early days of November, though there are still updates from Premier Foods (PFD) and Asda and a crucial vote on Co-op's takeover of Nisa.
At 11am this morning Nisa members will vote on the proposed £140m buyout of the convenience chain the Co-operative at an emergency general meeting. The deal will need 75% approval to pass and reports suggest the vote could be tight. Check thegrocer.co.uk/news for coverage this morning.
First up this week in results terms are Brazilian meat giants JBS and Marfrig, both of which will be issuing their third quarter trading updates this evening.
In the UK the main scheduled company events are Premier Foods' half year earnings on Wednesday, while Asda's third quarter performance will be revealed in Wal Mart's (WMT) third quarter trading update on Thursday morning.
German consumer goods group Henkel will issue its third quarter results on Tuesday, while this week sees the Morgan Stanley Global Consumer & Retail Conference in New York.
Back in the UK the monthly inflation figures in the form of the Consumer Price Index and the Retail Price Index are released tomorrow morning, while the official UK retail sales figures for October are issued by the Office of National Statistics on Thursday.