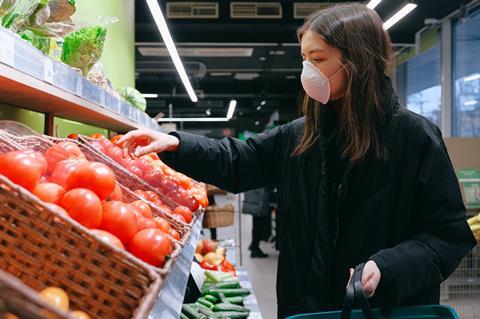 Top story
Grocery sales spiked in November by 13.9% as eating and drinking out of home was restricted by the English national lockdown to boost the industry in the run-up to Christmas.
The latest grocery market share figures from Kantar show take-home grocery sales rose by 11.3% during the 12 weeks to 29 November 2020, the fastest rate of growth since August.
Take-home sales during the past four weeks increased by 13.9% as non-essential retail closed on 5 November. The week of the instigation of the second UK-wide lockdown saw grocery sales rise by 17%.
Fraser McKevitt, head of retail and consumer insight at Kantar, said: "November as a whole saw shopper frequency hit its highest level since the beginning of the pandemic, suggesting more confidence among people going into stores.
"Those factors contributed to November being the single largest month ever for the supermarkets, with £10.9bn spent over four weeks. December's numbers are likely to surpass that again, and we expect spend to be close to £12 billion in the month ahead, around £1.5bn more than last year."
Kantar suggested people have begun the countdown to Christmas 2020 early, with sales of turkeys, both whole birds and ready-to-roast joints, are up by 36% on last year, while more than £11m was spent on Christmas puddings.
Over the three month period three of the big four saw double-digit growth, led by Morrisons with sales up 13.7% with Sainsbury's up 10.8% and Tesco up 10.4%. Asda was up 7.7%.
Waitrose increased sales by 13.2%, its fastest rate of growth since 2005, with sales of fresh meat and fresh fish rising by 25% and 16% respectively. Aldi was the slowest growing grocer analysed by Kantar, with sales up 7%, while discount contemporary Lidl was up 13.9%.
The fastest growing physical retailer was Iceland, up 21%, while Co-op's growth was 9.8%.
Online shopping has been one of the major trends of 2020, and this month more than six million households bought from a grocer via the internet, the highest ever. Renewed lockdown protocols saw the share of overall market sales made online reach a record 13.7%.
Ocado demonstrated the trend, growing by 38.3% in the latest 12 weeks. This period also fully covers the time since Ocado started selling M&S products, during which its share of the chilled ready meals market has tripled to just over 3%.
Ahead of Brexit, grocery inflation now stands at 1.4% for the 12-week period ending 29 November 2020. Prices are rising fastest in market such as canned colas, fresh pork and fresh sausages while falling in vegetables, bread and fresh beef.
Meanwhile, Nielsen has found that UK supermarket sales increased by 10.1% in the last four weeks ending 28th November 2020, with weekly sales growth peaking at 13% in the week ending 7th November, as shoppers prepared for the UK's second national lockdown.
Despite the spike in spend in the first week of the recent lockdown, Nielsen data shows that overall UK shoppers maintained their existing shopping habits. Shoppers continue to limit their visits to stores, with visits down 12% compared to this time last year, however they continue to spend more each time they shop, on average 16% more.
As UK shoppers start to cautiously plan for Christmas, many are switching their spend to online. Nielsen data shows that in the four weeks to 28 November, online sales increased by 109% compared to the same period last year, with online share of grocery spend reaching 13.6%, (compared to the 7.1% of share in November 2019) and not far from the 14% peak levels seen in June of this year.
In the last four weeks, Nielsen data also shows that sales of frozen food increased by 19.7%, whilst sales of alcohol soared by 23.2%, likely due to shoppers stocking up in light of the uncertainties around entertaining, as well the closure of bars and restaurants during the lockdown period.
In terms of retailer performance over the last 12 weeks ending 28th November 2020, Morrisons (+9.8%) continued to outperform the 'big four' retailers, whilst the discounters Aldi (+8.5%) and Lidl (+18.5%) continued to benefit from shoppers looking to save money.
M&S (+0.5%) had the slowest growth overall as many of its food hall stores are located within clothing and home stores, as well as the restrictions placed on travel and high street shopping.
Mike Watkins, Nielsen's UK Head of Retailer and Business Insight, said: "Pandemic lifestyle shopping habits have now become engrained for UK shoppers, and are likely to remain for some time. Ongoing restrictions means that shoppers will continue to plan ahead and it's no different when it comes to the Christmas grocery shop."
Watkins continues: "With the peak Christmas period fast approaching, there are limited opportunities for shoppers to entertain this year and any gatherings that do take place will be smaller. We can see that shoppers are preparing for this where they can - buying packaged grocery, alcohol and frozen food - and many have planned their online orders early. However, there's still a big opportunity for brands and retailers as we anticipate that up to £1b more will be spent on groceries this December, compared to last year."
Morning update
The BRC-KPMG retail sales monitor for November has found that total retail sales increased by 0.9% during the month, though this represents a significant drop on average growth of 3.9% over the past three months.
UK retail sales increased 7.7% on a like-for-like basis, excluding temporarily closed stores and including online sales, from November 2019, when they had decreased 1.3% from the preceding year.
Over the three months to November, in-store sales of non-food items declined 18.6% on a total and 10.8% on a like-for-like basis.
Food sales increased 6.4% on a like-for-like basis and 7.0% on a total basis over the three month period. This is higher than the 12-month total average growth of 4.8%.
Online non-food sales increased by 47.2% in November, against a growth of 0.3% in November 2019.
BRC CEO Helen Dickinson commented: "November saw the brakes put on the sales growth that had been seen over the previous three months. In-store non-food sales saw a significant decline as a result of the lockdown in England, however some retailers were able offset a proportion of lost sales through greater online and click-and-collect sales, ensuring they could still serve their customers.
"Extended discount periods helped spread demand and offered customers great deals on gifts including the latest gaming consoles, other electronics and home accessories. However, the disparity between online and in-store non-food sales widened, with the highest online penetration rate since May. Non-food stores once again experienced double-digit decline as tighter restrictions were bought in across England.
"Despite sales remaining positive overall, parts of the industry continue to suffer. After two periods of prolonged closure, and continued low footfall in towns and city centres, many retailers face the stark reality of further job losses and store closures as a result of mounting rent bills and a return to full business rates liability from next April. Government should extend the moratorium on debt enforcement and target those retailers who have been hardest hit by the pandemic with further business rates relief beyond April 2021."
Looking at the food sector, IGD CEO Susan Barratt commented: "With much of the UK in lockdown and many out-of-home channels shut, food and grocery sales put in another strong performance in November.
"The week-on-week uptick in sales in the second half of November looks like the conventional seasonal shopping build-up with the expectation of sales growing sharply at some stage in December. However, as we move out of national lockdown and to stricter regional tiers, retailers are having to plan for a very different Christmas this year."
On the markets this morning, the FTSE 100 is dowb 0.2% to 6,544.6pts.
Risers so far this morning included Nichols, up 6.9% to 1,229.1p, Bakkavor, up 3.9% to 79.9p, and DS Smith, up 2.1% to 356p.
Early fallers include SSP Group, down 2.9% to 348.8p, Coca-Cola European Partners, down 2.3% to €38.05, Glanbia, down 2.2% to €10.46, and Greencore, down 2% to 121.1p.
Yesterday in the City
The FTSE 100 ended the day edging up 0.1% to 6,555.3pts.
The day's risers included British American Tobacco, up 4.7% to 2,849p, Imperial Brands, up 3.4% to 1,517.5p, McBride, up 3.1% to 73p, Nichols, up 2.2% to 1,150p and DS Smith, up 2.1% to 348.6p.
Fallers included Tesco meat supplier Hilton Food Group, down 4.5% to 1,066p, Cranswick, down 3.6% to 3,406p, Pets at Home, down 3.5% to 369p and Bakkavor, down 2.5% to 76.9p.
Food to go suppliers and travel retailers started the week o the back foot, with WH Smith, down 3.5% to 1,589p, Greencore, down 3.4% to 123.6p, SSP Group, down 3.1% to 359.2p and Marks & Spencer down 2.8% to 138.5p.