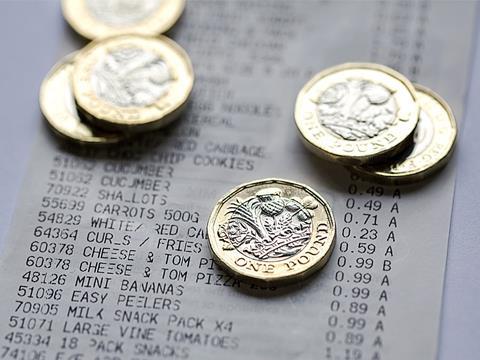 Top story
The Grocer Price Index measure of supermarket inflation fell from 1.2% to 1.1% as Tesco (TSCO) recorded its lowest level of inflation for almost a year.
The GPI, collated by Brand View from more than 60,000 individual SKUs, found that Tesco still has the highest level of annual inflation among the big four supermarket players in the month to 1 June.
However, Tesco's 2.3% rate of annual inflation fell considerably from the 3.4% posted in the month to 1 May after peaking at 4.1% in the month to 1 March.
Tesco has had the highest level of inflation across the big four since the month to 1 August 2017 as it pushed through price increases in the latter half of the year after posting lower inflation than its competitors in early 2018.
This significant fall in Tesco's inflation helped the overall GPI ease back from 1.2% to 1.1%, despite a rise in inflation across the rest of the big four and continued inflationary pressures from the soft drinks levy.
Price cuts on around 900 lines had seen Sainsbury's (SBRY) record deflation of 0.4% in the month to 1 May, but rose to post inflation of 0.1% this month. Morrisons (MRW) moved from +0.1% last month to +0.6% and Asda rose from +0.5% to +1%.
The overall GPI remains at its second lowest level over the past year, with only the 0.8% inflation in the month to 1 April representing a lower figure.
Click here for the full story and category breakdown.
Morning update
AIM listed spirits group Distil (DIS), owner of brands including Blackwoods Gin and Vodka, RedLeg Spiced Rum, Blavod Black Vodka, Diva Vodka and Jago's Vanilla Cream Liqueur, has reported a year of double-digit growth.
Turnover, supported by increased marketing investment, increased by 23% to £2m from £1.6m in the previous year, while gross profit increased by 23% from £950k to £1.2m. Margins were maintained at 58% for the same period, year-on-year
The group said sales volumes and revenues continue to grow strongly across all trade channels, while it secured new listings in major UK retail multiples and pub chains.
Operating profit rose to £157k compared to prior year profit of £10k as other administrative expenses were constrained amid a rise in marketing costs.
During the year the company launched Blackwoods new 2017 Vintage Dry Gin and made "further progress" in opening up new European markets.
Don Goulding, executive chairman of Distil, said: "We are pleased to have delivered a strong set of results with significant growth in volumes, revenue and profits, supported by investment in our brands. Importantly we were able to grow sales, drive contribution margins, invest in marketing and improve operating cash flow during the year.
"Distil is growing into a stronger business with a healthier balance sheet and increasingly attractive owned brands. We look forward to building on this success though further investment in our key brands in the coming year."
Distil shares are up 9.6% this morning to 2.41p.
In this week's edition of The Grocer, William Jackson hints at future acquisitions after £210m Aunt Bessie's sale, pies & pastries supplier Peter's embarks on refinancing deal and new investment for snack startup Bepps.
Check The Grocer's finance section for full details later this morning.
On the markets this morning, The FTSE 100 has dropped 0.6% to 7,655.8pts in early trading as fears over a trade war between the EU and the US mount.
Early risers include Ocado (OCD), up another 2% to 974.9p, Devro (DVO), up 2% to 207.5p, Hilton Food Group (HFG), up 1.5% to 928p and McColl's (MCLS) up 1.3% to 242.1p.
Fallers so far include McBride (MCB), down 1.4% to 137.4p, WH Smith (SMWH), down 1.4% to 2,046p, British American Tobacco (BATS), down 1.2% to 3,602p and Tesco (TSCO), down 1.2% to 245p.
Yesterday in the City
After a late opening because of a technical glitch, the FTSE 100 ended the day down 0.1% at 7,704.4pts.
On a day of few significant risers, Ocado (OCDO) continued its post-Kroger tie-up share price surge, rising another 3.8% to 955.6p to move further towards its all-time share price high of 1,000p set in the immediate aftermath of the deal.
The few other risers included B&M European Value Retail (BME), up 0.7% to 418.8p, Majestic WINE (WINE), up 2% to 458p and CARR's Group (CARR), up 1.4% to 149p.
There were more significant fallers, led by Sainsbury's (SBRY) which dropped 3% to 303.6p after its shares went ex-dividend.
Other notable fallers included Compass Group (CPG), down 2.4% to 1,562p, WH Smith (SMWH), which fell back 2.4% to 2,074 after Wednesday's share price jump driven by its strong third quarter results, SSP Group (SSP), down 2.1% to 654p, Greencore (GNC), down 2.1% to 186p, Cranswick (CWK), down 2% to 3,370p and PZ Cussons (PZC), down 2% to 232p.
FTSE 100 fallers included British American Tobacco (BATS), down 1.6% to 3,645p, Diageo (DGE), down 1.3% to 2,696.5p, Marks & Spencer (MKS), down 1.1% to 289.2p and Imperial Brands (IMB), down 1% to 2,604.5p.
Distil was down 8.3% to just 2.2p before this morning's annual results.