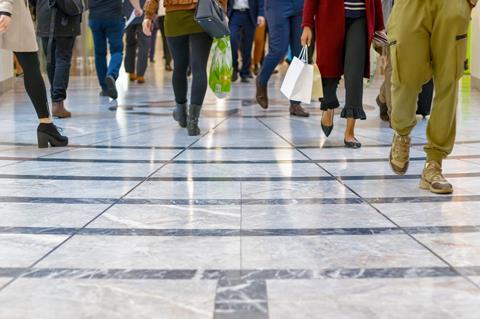 Top story
UK consumer confidence rebounded in Many according to GfK's consumer confidence Index, but confidence in the country's overall UK economic situation remains significantly lower year-on-year.
The overall index remained in negative territory at –10 in May, with four measures increasing and one staying the same.
People's views on their personal economic situation are improving, with the index measuring changes in personal finances during the last 12 months up this month to +3 and two points higher than in May 2018.
Also, the forecast for personal finances over the next 12 months increased by five points to +5 this month, which is three points lower than May 2018.
However, the measure for the general economic situation of the country during the last 12 months has remained the same this month at -30 which is six points lower than in May 2018.
Expectations for the general economic situation over the next 12 months did increase five points during the month to -29 but this remains eight points lower than May 2018.
Joe Staton, client strategy director at GfK, said: "Despite a backdrop of Brexit-related change and complexity, and price rises for most household bills in April, consumers have managed a seasonal spring in their step with a three-point uptick in consumer confidence this month."
"With the Government forecasting an economy showing modest growth, where inflation is under control, unemployment is at multi-decade lows and the employment rate is at a record level, perhaps this sunnier picture is to be expected?"
"But before we see a leap back into the brighter positive numbers last seen in January 2016, consumers will need to be convinced in heart, head and wallet that Brexit's murkiness has finally come to an end. And there are potentially dark clouds on the horizon with the next EU deadline of 31 October."
Morning update
See this week's edition of The Grocer for stories on how Lucozade Ribena Suntory has protected profits despite the advent of the UK soft drinks levy, seven-figure funding boosts for Rubies in the Rubble and The Lakes Distillery and more.
Check out thegrocer.co.uk/finance for full details later today.
Total Produce (TOT) has released a brief trading statement this morning, stating that the group is "targeting continued growth for 2019".
It said full year earnings growth expectations remain unchanged, despite competitive markets and "more uncertainty" surrounding international trade.
Following its acquisition of a 45% stake in Dole Food Company, Dole is currently trading in line with expectations, and 2019 will be the first full-year incorporating the group's share of Dole's results.
Subject to shareholder approval, a final dividend of 2.5140 cent per share will be paid on 6th June 2019 representing a 2.5% increase on last year.
The company stated: "Total Produce is in a strong financial position and the Dole transaction represents a very significant step and a continuation of the group's successful expansion strategy."
C&C Group (CCR) has announced that Vincent Crowley has been appointed as senior independent non-executive Director with effect from 1 June 2019, having been a non-executive director since January 2016.
He replaces Richard Holroyd, who is to step down from the board on 31 May 2019.
Stewart Gilliland, Chairman of C&C, commented: "We are very grateful to Richard for the contribution he has made to the Group's long-term development."
On the markets this morning the FTSE 100 has fallen back 0.8% or 55pts to 7,162pts on yet more global trade concerns after US President Donald Trump vowed to slap a 5% tariff on all goods from Mexico.
The raft of fallers are led by PayPoint, down 4.6% to 1,062.7p, Tate & Lyle (TATE), down 3.8% to 735.8p and DS Smith (SMDS), down 1.9% to 312.7p.
The small number of risers include McBride (MCB), up 4.2% to 87.9p, Marks & Spencer (MKS), up 0.7% to 222.7p and CARR's Group (CARR), up 0.7% to 152p.
Yesterday in the City
The FTSE 100 rebounded 0.5% to 7,218.2pts yesterday.
On a quiet day of newsflow, Real Good Food (RGD) ended the day up 4.7% after a double digit drop earlier in the morning on the news it had agreed to pay a £300k fine for filing misleading stock exchange announcements in mid 2017.
Other risers included Greencore (GNC), up 3% to 207p, Ocado (OCDO) recovered from a share price wobble earlier this week rising back 2.7% to 1,199p, Domino's Pizza Group rose 2.3% to 234.2p, Greggs (GRG), up 2.2% to 2,150p and Compass (CPG) was up 2.2% to 1,807.5p.
Marks & Spencer (MKS) shares continued to sink as its discounted rights issue comes to conclusion to fund its joint venture with Ocado. The retail stalwart, which is in danger of dropping out of the FTTSE 100, fell a further 4.7% back to 221.1p yesterday.
Other fallers include McColl's (MCLS), down 4.7% to 221.1p, Hotel Chocolat (HOTC), down 2.9% to 340p, Majestic WINE (WINE), down 1.7% to 265.5p and Hilton Food Group (HGF), down 1.5% to 985p.