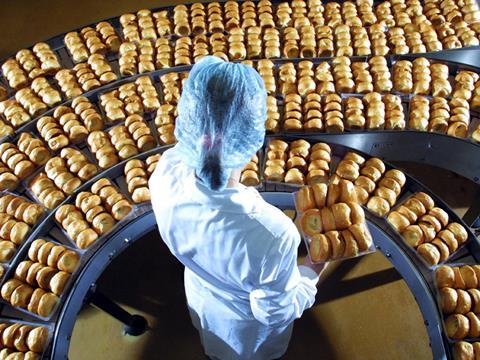 Top story
The UK's food and beverage sector was ahead of international Covid-19 recovery trends in July, according to a newly launched Lloyds Bank UK Recovery Tracker.
The Lloyds Bank UK Recovery Tracker, working with IHS Markit, shows UK businesses' output increased faster than the global benchmark in 12 of the 14 sectors monitored by the tracker, indicating UK businesses recovered faster than similar firms in other parts of the world in July.
Food and beverages were one of the strongest performers of the 14 UK sectors tracked by Lloyds Bank – with only metals and mining (+75) and chemicals (+66) showing a stronger recovery that food and drink (+63) to date.
A restart of domestic manufacturing supply chains and a tentative rebound in corporate spending were the main factors driving this outperformance.
Tourism and Recreation and Technology Equipment were the only UK sectors to report a decline in output in July.
Lloyds said that, although output is now rising in the UK, the outlook is still very uncertain with the risk of future widespread Covid-19 outbreaks, and the figures should be viewed in the context of the historic lows recorded during the second quarter of 2020. All 14 sectors underperformed the global benchmark in April.
The proportion of UK firms reporting lower output and attributing this to Covid-19 has fallen every month since the height of lockdown early in the second quarter.
Some 80% of construction firms, 69% of services business and 67% of manufacturers cited lower output caused by the pandemic during April, but by July the number of survey respondents reporting a decline in output due to Covid-19 had fallen to 24%, 28% and 15% respectively.
Jeavon Lolay, head of economics and market insight at Lloyds Bank Commercial Banking, said: "Our debut edition paints an encouraging early picture for a number of domestic industries, although the major caveat is that output is rising from an extremely low base, and the risk of further local lockdowns is very real."
Ed Thurman, MD of global transaction banking at Lloyds Bank Commercial Banking, added: "The very early signs of recovery measured in July are, in my mind, the result of the resilience and innovation that the UK business community is renowned for – and the ambition that we have seen from our own customers time and time again.
"Clearly, the coming months will be critical in the journey to recovery. This data will help our understanding of the challenges and opportunities facing businesses right across the country. It will also inform our recently launched Big Conversation initiative, a grassroots programme designed to help businesses and communities build back better."
Morning update
On the markets this morning, the FTSE 100 is up another 0.6% to 6,140.4pts on top of yesterday's gains.
Early risers include Hotel Chocolat, up 4.5% to 318.7p, Marks & Spencer, up 2% to 113.2p, Marston's, up 2% to 50.5p and WH Smith, up 1.7% to 1,034p.
Fallers include Devro, down 2.5% to 180p, Just Eat Takeaway.com, down 1.3% to 8,696p and PZ Cussons, down 1.2% to 199.1p.
Yesterday in the City
The FTSE 100 started the week on the front foot, rising 1.7% back to 6,104.7pts amid renewed hopes of progress towards a coronavirus vaccine.
Major risers included Pets at Home, up 4.7% to 295.2p, British American Tobacco, up 3.7% to 2,620p, Devro, up 3.7% to 184.6p, Imperial Brands, up 3.7% to 1,299p and Premier Foods, up 2.7% to 88.3p.
Groups with out of home exposure gained yesterday, including C&C Group, up 2.6% to 214.5p, WH Smith, up 2.6% to 1,017p, Coca-Cola European Partners, up 2.5% to €34.40 and Bakkavor, up 2.3% to 66p.
FTSE 100 companies on the rise included DS Smith, up 3.5% to 271.8p, Associated British Foods, up 2.2% to 2,043, Unilever, up 1.6% to 4,581p and Diageo, up 1.4% to 2,626.5p.
The day's fallers included Naked Wines, down 4.8% to 442.5p, McColl's Retail Group, down 3.9% to 29.8p, Science in Spot, down 3.3% to 29p, Hotel Chocolat, down 3.2% to 305p and Domino's Pizza Group, down 2.4% to 335p.