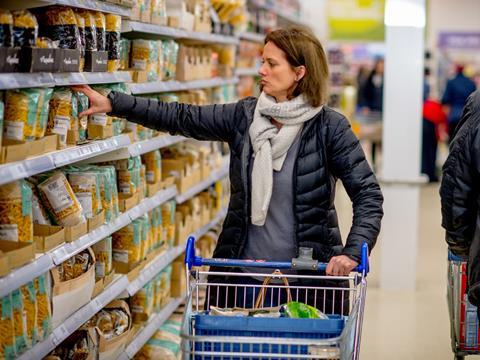 Top story
UK retail sales fell by 0.4% on a like-for-like basis in May as weak non-food sales dragged down strong food sales growth, according to the BRC KPMG Retail Sales Monitor.
On a total basis, sales rose 0.2% in May, against a growth of 1.4% in May 2016. The 0.4% like-for-like decline stands against like-for-like growth of 0.4% in May 2016.
The 0.2% sales total rise is the lowest since January, excluding Easter distortions, and below the three-month and 12-month averages of 1.9% and 1.2% respectively.
Over the three-months to May, non-food retail sales in the UK decreased 0.3% on a like-for-like basis and increased 0.1% on a total basis, but below the 12-month Total average growth to 0.5%.
May's total non-food performance was the worst recorded since May 2011.
Conversely, food sales increased 3.2% on a like-for-like basis and 4.3% on a total basis over the three months to May. This is the strongest 3-month average since February 2012, excluding Easter distortions.
Online sales of non-food products in the UK grew 4.3% in May compared to 13.7% rise a year earlier. This is the lowest growth since December 2012.
Non-food online sales were up 7% over the three month period, while In-store sales declined 1.8% on a total basis and 2.3% on a like-for-like basis.
BRC chief executive Helen Dickinson commented: "After the pick-up in sales over Easter, consumer spending slowed again in May resulting in almost flat growth on the previous year.
"Overall, May's sales slowdown is indicative of a longer term trend of a decline in consumer spending power. As household budgets become increasingly squeezed by inflation, predominantly in the non-retail part of the consumer basket, it's vital that the next Government helps retailers keep prices low for ordinary shoppers. This means, as well as securing a tariff-free trade deal with the EU, negotiating frictionless customs arrangements; providing certainty for EU colleagues working in the UK; and ensuring the continuity of existing EU legislation as it transfers into UK law."
Paul Martin, UK Head of retail at KPMG added: "The impact of inflationary pressures on the nation's purse continues to play out in this month's figures, with shoppers evidently spending more on food and drink than on non-food purchases. With inflation continuing to rise and wage growth stagnating, consumers are starting to feel the pinch – although the highly competitive nature of the UK grocery market continues to play out in the consumer's favour.
"Many retailers, particularly fashion stores, will be poised and ready to make the most of the upcoming summer, so hopefully the weather will play fair. An increased focus on managing costs will dominate the retail agenda. More imminently though, eyes will be firmly placed on the outcome of the general election, with close attention being paid to the implications it might have on the industry."
IGN chief executive said rising food sales were attributable to inflation combined with warm weather towards the end of May.
She added: "With no big summer event beyond the regular schedule this year, sales over the next few months will hinge largely on the weather. Hot conditions encourage impulse buying. For instance, over a third (34 per cent) of shoppers say they tend to revert at the last minute to a barbecue when the weather is good."
Morning update
AIM-listed English wine producer Gusbourne (GUS) grew sales by 35% in the year ended 31 December 2016, but its pre-tax loss rose to over £1.5m.
Sales rose by 35% to £640k in the period after a "successful harvest in 2016 in terms of both yield and quality".
The company said that whilst these sales continue to reflect limited stock availability, they do represent a consecutive like for like growth in the sale of Gusbourne wines since 2013.
Gross profit was up by 47% to £217k, but EBITDA for the year was a loss of £802k while operating loss after depreciation and amortisation rose from £1.12m to £1.16m and loss before tax was up to £1.53m from £1.43m.
Gusbourne said trading in 2017 "remains in line with management's expectations".
Andrew Weeber, Chairman, commented: "2016 has been another successful year of growth and development for the company as we work towards our long-term goals. We remain dedicated to the production and sale of premium sparkling wines from grapes grown in our own vineyards and would like to thank both customers and staff for their ongoing support"
Additionally it has announced this morning the placement of over 10m new shares at 40p per share to raise an additional £4.2m before expenses.
The offer will be underwritten by political grandee Lord Ashcroft, who has also loaned the company £1m which will be offset against his subscription under the open offer.
The proceeds from this loan and the Open Offer will be used for working capital, and capital expenditure in line with the company's long-term strategic plan.
Elsewhere, AIM-listed DekelOil (DKL), operator and 100% owner of the vertically integrated Ayenouan palm oil project in Côte d'Ivoire, has also announced its results for the year ended 31 December 2016.
It reported a 13.7% increase in revenues to €26.6m, despite headwind of a 4.8% decrease in average crude palm oil prices during 2016
Growth was primarily driven by the introduction of sales of palm kernel oil from the kernel crushing plant.
It saw a 10.8% increase in EBITDA to €4.1m, while profit after tax increased over ten-fold to €1.3m from just €0.1m a year ago.
On the markets this morning, the FTSE 100 is down another 0.2% to 7,509.5pts as polls seem to be suggesting a tighter UK general election on Thursday that the markets had predicted.
Early fallers include FeverTree Drinks (FEVR), down 2.3% to 1,726p, Greene King (GNK), down 1/2% to 721.6p, PureCircle (PURE), down 1.2% to 317p, Just Eat (JE), down 1.1% to 667p and Premier Foods (PFD), down 1% to 40.8p.
Risers so far include Real Good Food (RGD), jumping 5.9% to 36p, Science in Sport (SIS), up 1.7% to 88p, CARR's Group (CARR), up 1.4% to 139.2p and Associated British Foods (ABF), down 1% to 3,019p.
Yesterday in the City
The FTSE 100 started the week on the back foot, slipping 0.3% to 7,525.8pts as the terrorist attack in London on Saturday hit travel and leisure stocks.
Leisure stocks hit included Restaurant Group (RTN), down 5.7% to 345.2p, Domino's Pizza (DOM), down 2.8% to 312.5p, Whitbread (WTB), down 2.6% to 4,116p, Mitchells & Butlers (MAB) down 2.2% to 235p, Greene King (GNK), down 1.9% to 730.5p and Marston's (MARS), down 1.8% to 130.9p.
Food retailers were also caught-up in the sell-offer, with travel specialise SSP Group dropping 2.2% to 476.7p, Hotel Chocolat (HOTC) falling 2.6% to 375p and Greggs (GRG), falling 1.5% to 1,106p.
The supermarkets were also largely down, with Morrisons (MRW), dropping 1.2% to 244.1p and Sainsbury's (SBRY), down 1% to 272.3p.
Ocado (OCDO) had jumped to its highest level for a year in early trading going above 338p after the signing of its first international agreement, but ended the day down 1.2% to 312.2p as worries over the details of the agreement surfaced.
Other fallers included Real Food Food (RGD), down 4.2% to 34p and Hilton Food Group (HFG), down 2.2% to 761p.
The day's few risers included Greencore (GNC), up 2.7% to 255.2p, Tate & Lyle (TATE), up 1.4% to 753.5p and Majestic Wine (WINE), up 1.3% to 380p.